Are you tired of always having the same side dish? Do you want to prepare something that requires only five ingredients, is very easy to make, but tastes like from a restaurant's menu? If so, try these caramelized oven-roasted vegetables! You will be surprised how something so simple can taste so good…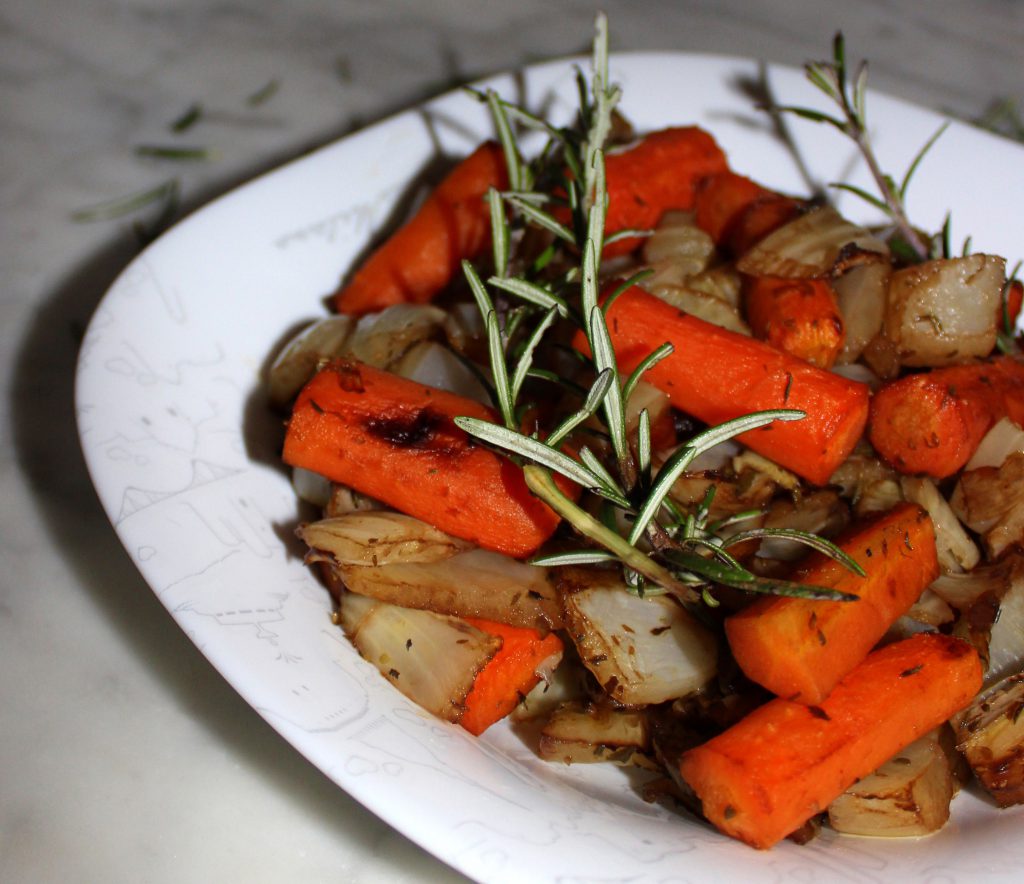 Since both main ingredients are my bunny's favorites, the only hard part to make this dish was to not step on Specky. Because he was jumping around and following me everywhere, just to get some piece of carrot or fennel. Seems that the days, in which I use something that also he can eat, are the best days of his life! But apart from that it's true that it is really easy to make these caramelized oven-roasted vegetables. And they are perfect to be served both as a main dish and a side dish. For example, together with the Eggplant/Aubergine and sundried tomato veggie burger.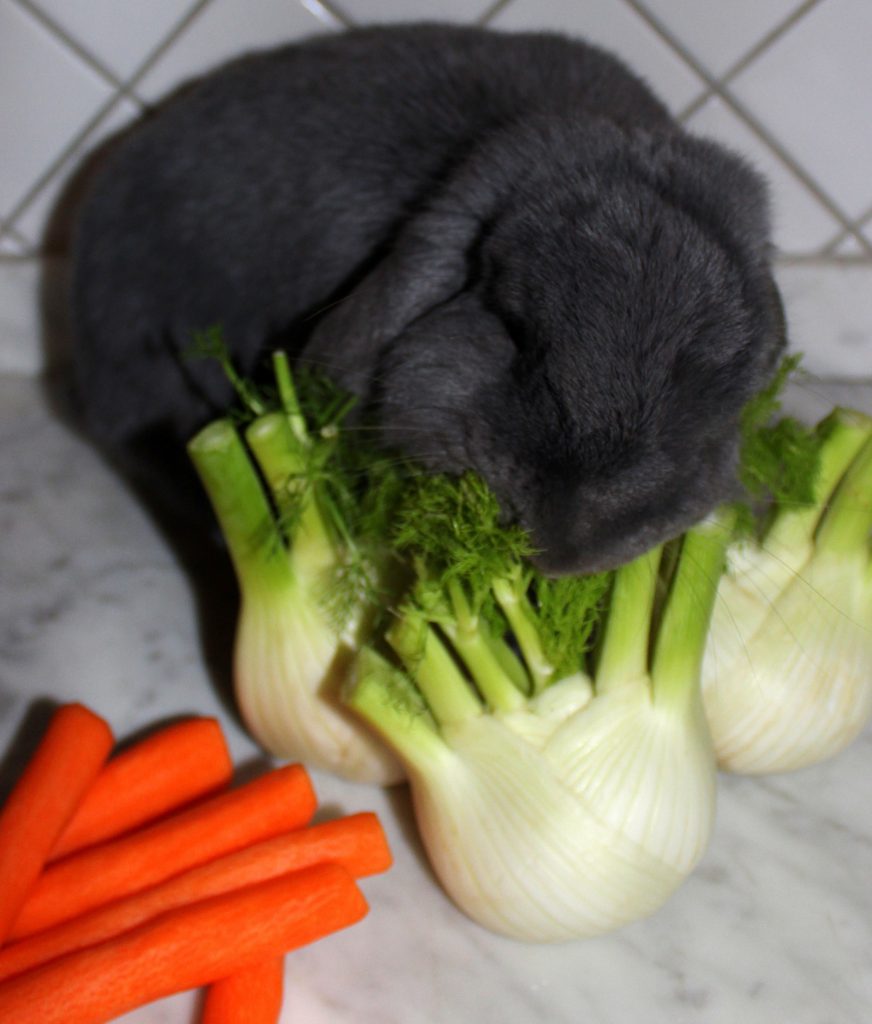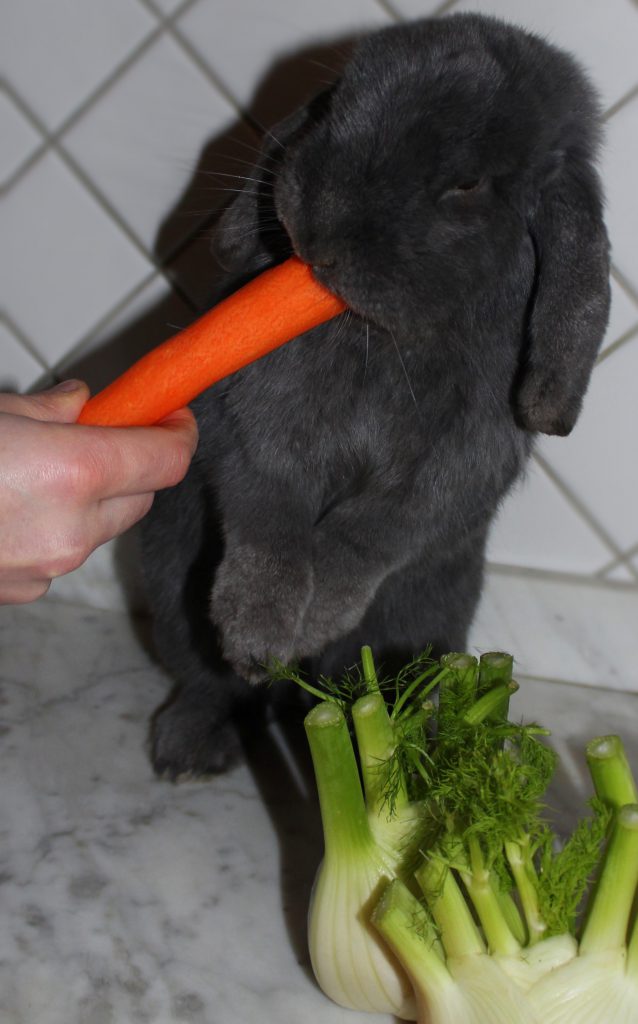 For me fennel was a new discovery when I moved to Italy. Especially since it's very popular here but almost unknown in Latvia. The aroma of it maybe will confuse you, by letting you think that you won't like it. Especially if you are not a big fan of liquorice. But don't say goodbye to this vegetable before you have even tried it! Because – guess what!? I literally hate the flavor of liquorice! But I still like the flavor of fennel! When it's cooked, you don't feel the flavor of liquorice, so trust me and give it a try!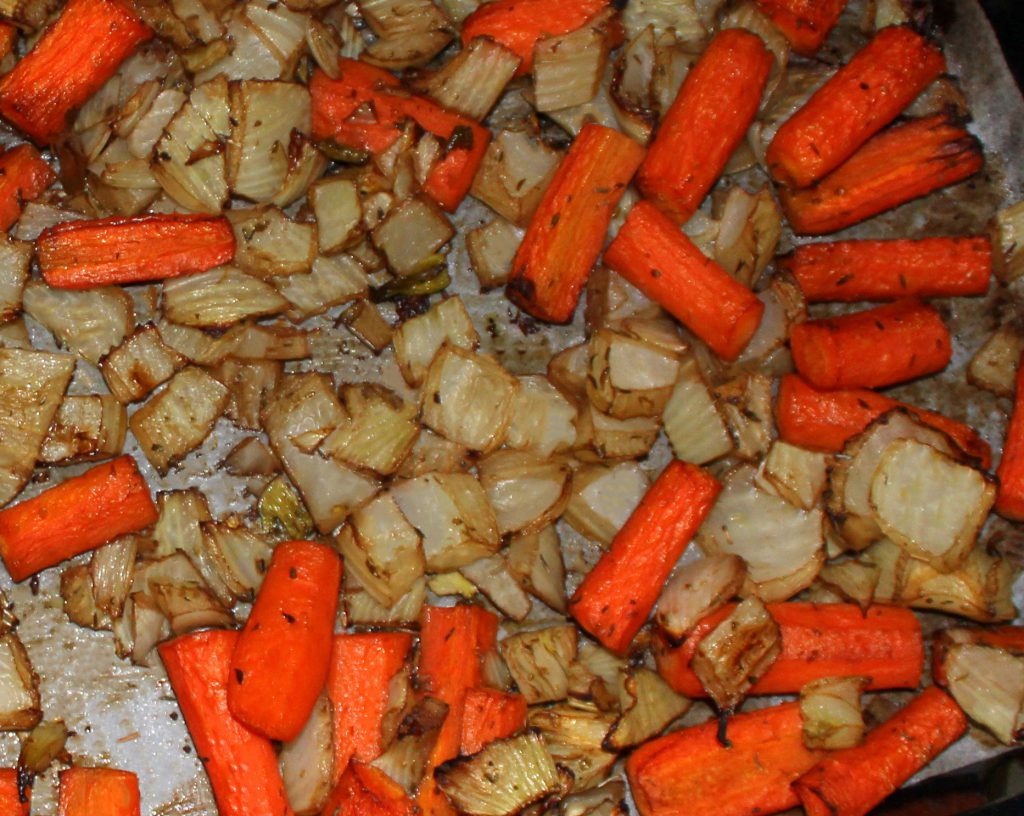 Health benefits & nutritional values
Carrots instead have been a part of my life since I was a small child. That's why I know that they're great for our health. Carrots are rich in vitamins, beta-carotene and fiber. That means that they're good for our eyesight, skin and digestive system. But what about fennel? First and foremost, I want to point out fennel's contribution into keeping our digestive system healthy. It helps eliminate excess gas, which might be a problem for vegans, since we eat many legumes. It regulates our intestinal health in case of some unwanted situations, like, diarrhea or constipation. Apart from that fennel contains a lot of vitamin C, which makes it valuable for our immune system. It is popular also for its anti-inflammatory qualities and the possibility to reduce the effects of premenstrual syndrome (PMS). So, in short – fennel is a wonderful vegetable, so include it in your diet!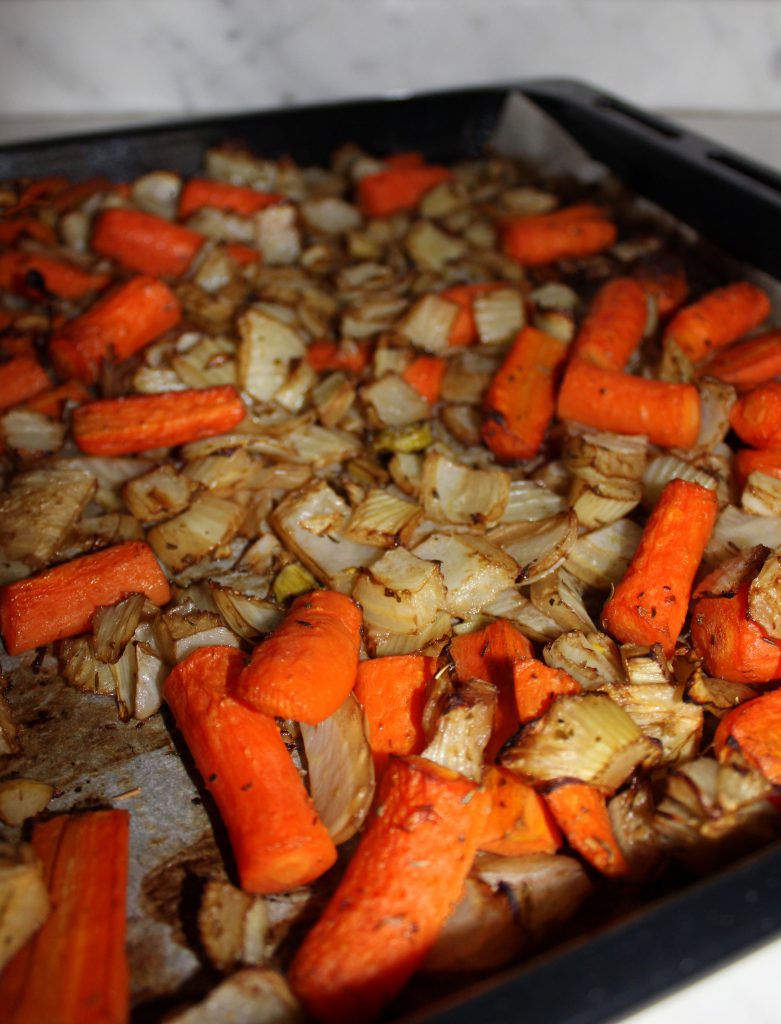 Despite the benefits of these vegetables, I sometimes wonder why we use the word "superfood" only for something less ordinary. Like chia seeds, goji berries etc. In my opinion every food that benefits our health can be considered as a superfood! Moreover, if it doesn't require to spend hours in kitchen to prepare it, like it is in this case. The only things that you need to do are cutting, mixing and roasting. Carrots and fennel, both have their individual flavors that together with the balsamic vinegar stand out even more. Besides that, the added balsamic vinegar gives the caramelized flavor to the vegetables. While oregano highlights the freshness of the ingredients.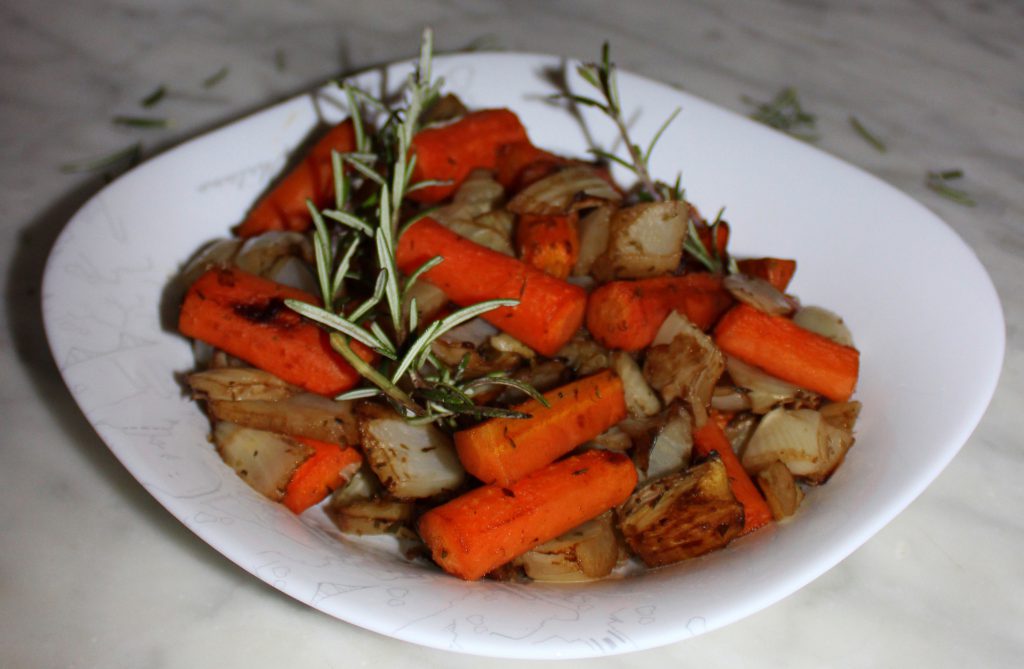 Perfect also for other type of vegetables
Carrots and fennel mixed together give a pleasant explosion of slightly sweet and sour taste in your mouth. But don't forget that in the same way you can prepare also other vegetables – broccoli, cauliflower, Brussel sprouts etc. Basically anything you want – let your imagination guide you! Just pay attention to the type of vegetables that you choose. Different vegetables require different cooking time. In order to avoid burning some of them, always cook first those vegetables that require the longest cooking time. And then later add the others that get ready faster.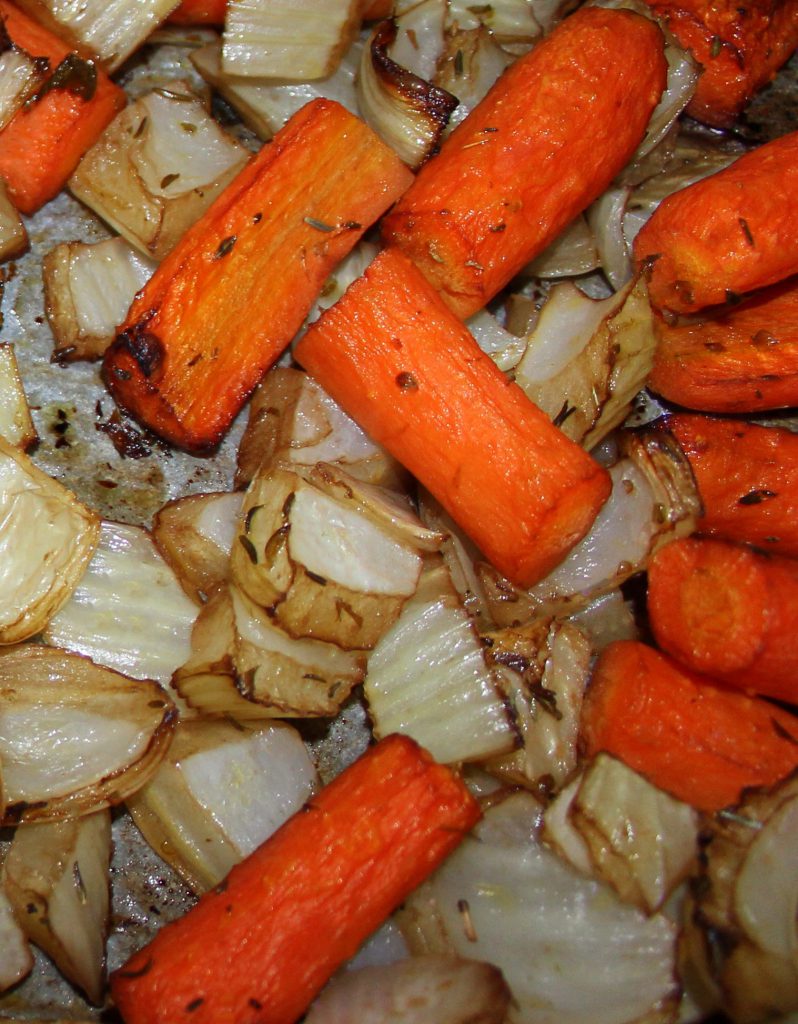 Of course, you can always also keep it simple. Just like I did this time by using only carrots and fennel. As you know, it's not about the quantity, but about the quality! And believe me – these caramelized oven-roasted vegetables thanks to only three added ingredients are:
juicy

sweet and sour at the same time

full of vitamins

full of fiber

healthy

easy to make

nutritious

and simply yummy!
Let me know, if you try this recipe! Leave a comment or even more – make Specky happy! Snap a picture of your masterpiece and post it on Instagram or Facebook by tagging @bunnymommycooks. And feel free to let your animal family members join in the picture!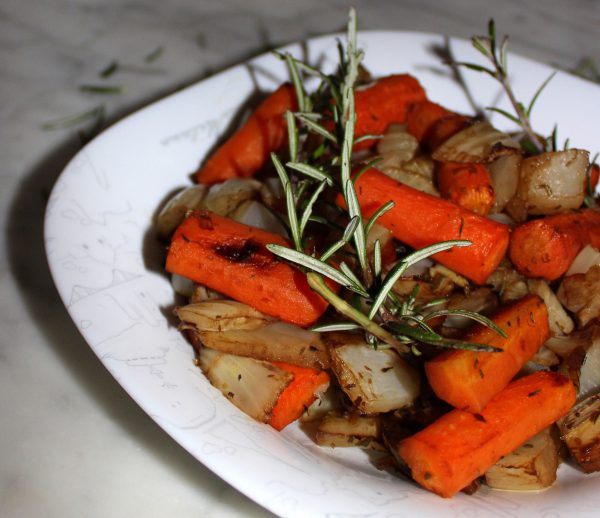 700

g

of carrots

850

g

of fennel

3

tablespoons

of extra virgin olive oil

5

tablespoons

of balsamic vinegar

1

teaspoon

of dried oregano
700

g

of carrots

850

g

of fennel

3

tablespoons

of extra virgin olive oil

5

tablespoons

of balsamic vinegar

1

teaspoon

of dried oregano
clean the vegetables and cut them in equal-sized pieces – the shape of the pieces is up to your choice;

put the cut vegetables in a bowl, add oil, balsamic vinegar and oregano. Mix well, so that all the pieces are covered with the added ingredients;

line a baking tray with parchment paper and transfer the coated vegetables to the baking tray. Do not hesitate to pour the oil-vinegar mixture that is left in the bowl over the vegetables;

roast the vegetables at 180°C/350°F in a preheated oven for around 45 minutes (or until soft), stirring halfway. Pay attention that the vegetables do not get burned. To avoid that, do not skip the step of stirring them after ~15 – 20 minutes of cooking;

check the readiness of the vegetables with a fork. If they are soft enough, take them out of the oven and treat yourself immediately, even though they taste great also when cold.
* the amount of servings depends on the way how you plan to use this meal - if you use it as a main dish, it's enough for 2 people, but if you use it as a side dish, it can serve up to 4 people