New vegans usually tend to think that they need to say bye-bye to such things as burgers, pizzas, wraps etc. Keep calm, it's not true! Even as a vegan you can still have tasty burgers, juicy pizzas and other types of snacks. And most importantly – they can also be good for your health. Still in doubt? Try to substitute the typical junk food with this eggplant and sundried tomato vegan burger that requires only 4 ingredients!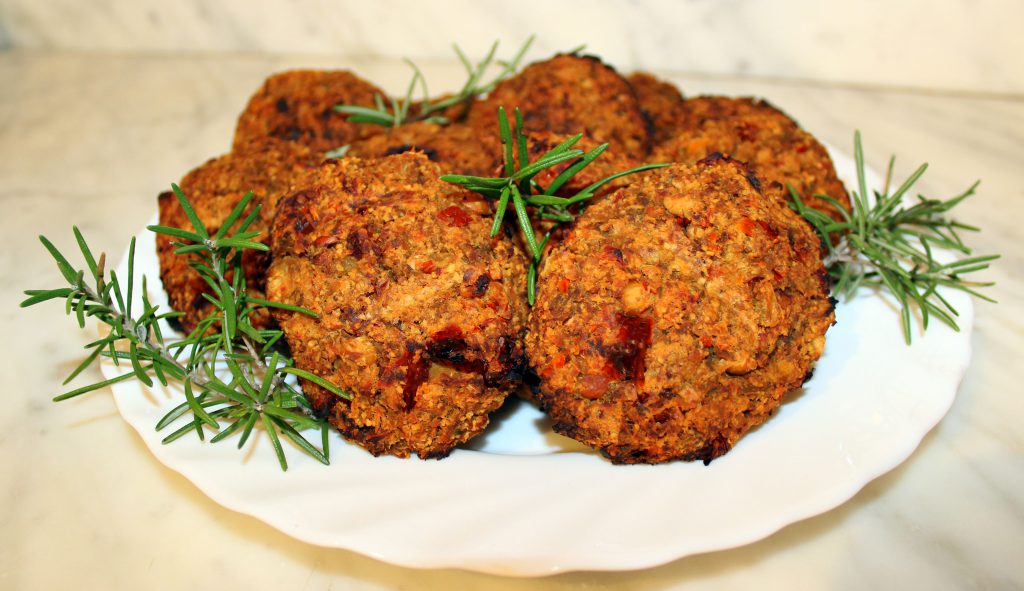 I have to admit that I'm happy to see in supermarkets, cafeterias and also fast-food restaurants vegan burger options. But at the same time I must say that the choice is still quite limited. For me it seems a bit strange, since there is such a big diversity of vegetables and legumes. And still, most of them are not even considered as potential ingredients for a vegan burger. I wanted to change this at least in my home. So as a base for my vegan burgers I decided to use two ingredients that I consume quite rarely. Not because I wouldn't like them, but simply because they are not the "fits-in-every-recipe" type of products.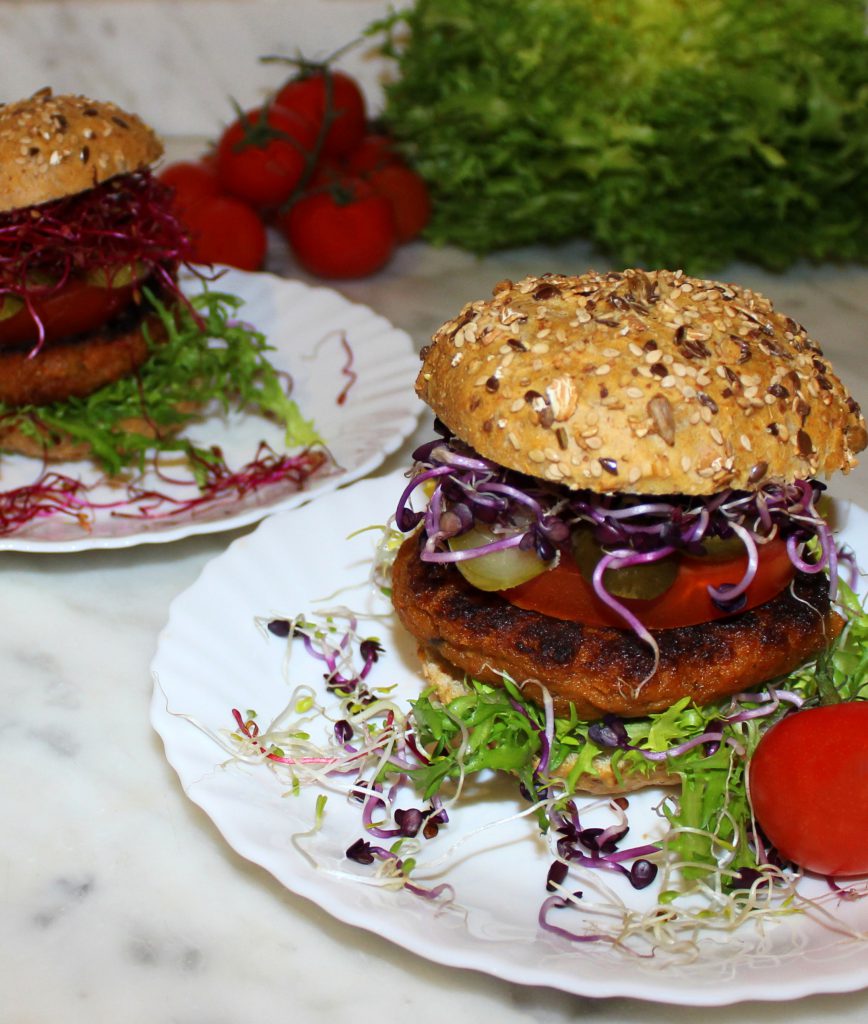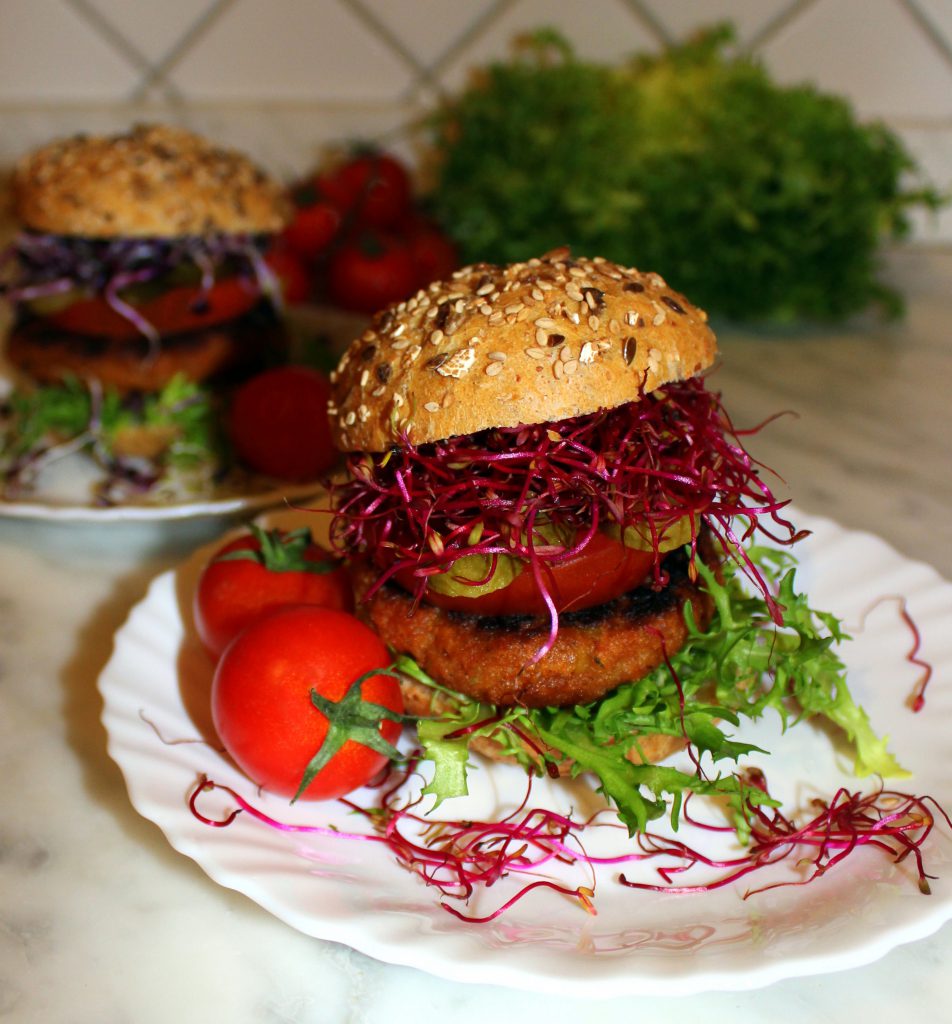 Neither eggplant (in some places of the world known also as aubergine) nor sundried tomatoes are Specky's snacks. He knows that he can't eat them. But it doesn't stop him for using them to play hide-and-seek. Even when mommy is trying to cook! As you can see, I guess he thought he was super unnoticeable between the eggplants… Well, to keep Specky happy, I didn't reveal to him the truth. Namely, that his fluffy tail was only one of the things that made it quite easy to spot the intruder!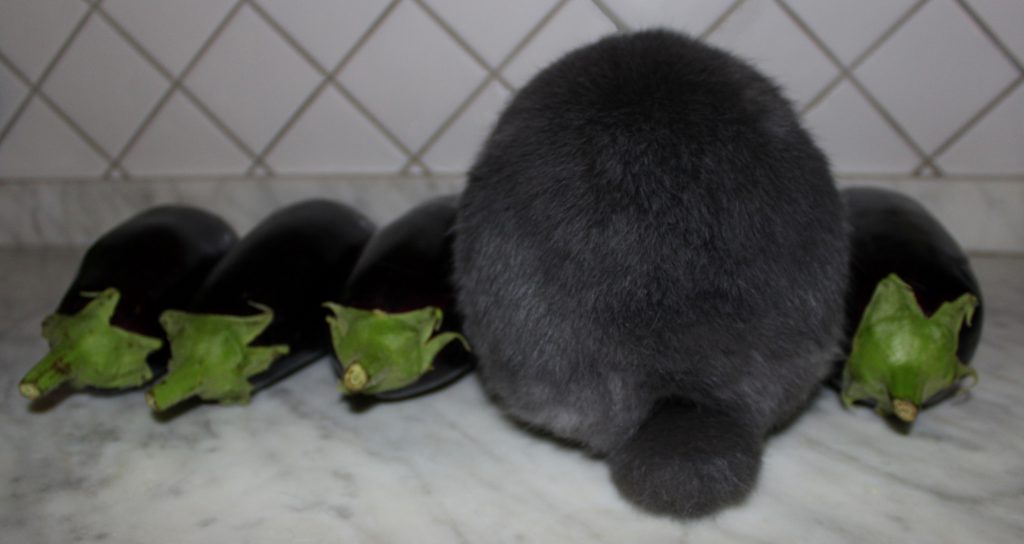 What you didn't know about eggplants
Apart from Specky's games I would like to pay more attention to this underestimated jewel – eggplant. First of all, did you know that eggplant is actually classified as a fruit, not a vegetable? Maybe for Italians it makes more sense, since "eggplant" in Italian is "melanzana". It is considered to come from "mela insana" meaning "apple of insanity". Who knows if it's just a legend or really the truth. In any case, one thing is sure – in our minds apple is something much closer to a fruit. Actually, also tomato is a fruit/berry, but, frankly speaking, who cares if something is classified as fruit or vegetable, right? As long as it's tasty and good for our health, we should simply include it in our daily menu!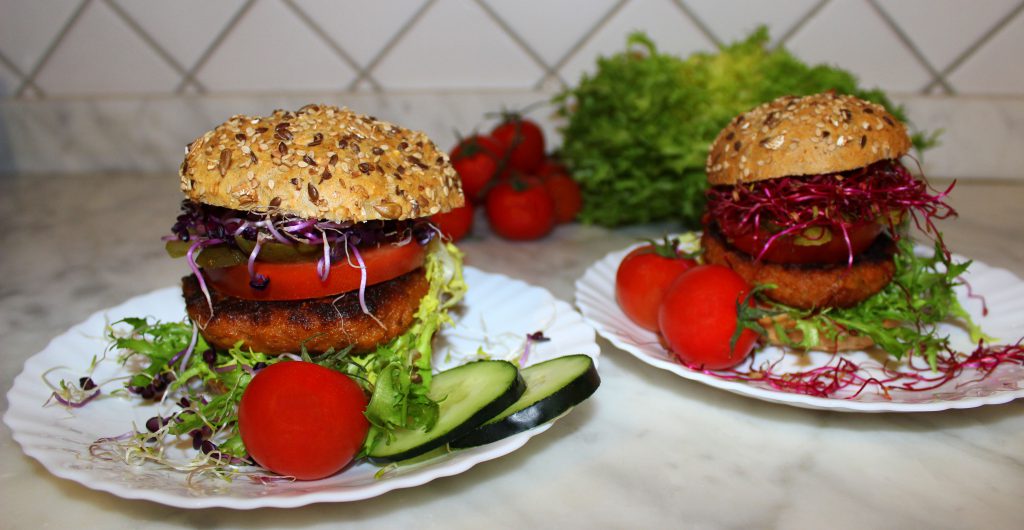 In general, eggplant is considered to be a good option for people who want to lose weight. But you should be very careful with the way how you prepare it. Eggplant is a great source of many vitamins, minerals and dietary fiber. But it's also very easy to turn these benefits into imperfections. With this I'm referring to the fact that eggplant has its sponge-like texture for a reason. It soaks up any liquid it gets in touch with. So, it's really not a good idea to fry eggplant in a big amount of oil. For this eggplant and sundried tomato vegan burger you don't need the eggplant to be full of liquid. Quite the opposite – you need it fairly dry. Otherwise your vegan burgers will not hold together.
How to drain an eggplant
There are different ways how to remove the excess water from an eggplant. You can roast it in the oven for around one hour or cover it with big amount of salt for some hours etc. For me the best way is to microwave eggplant slices for a few minutes and then pressing the water out. I think it's the quickest and easiest way. But for this recipe you can drain the eggplant in your preferred way.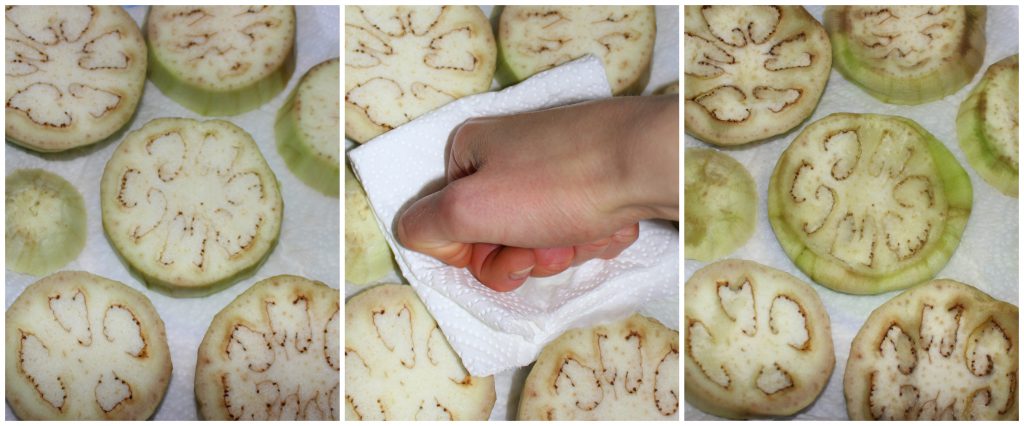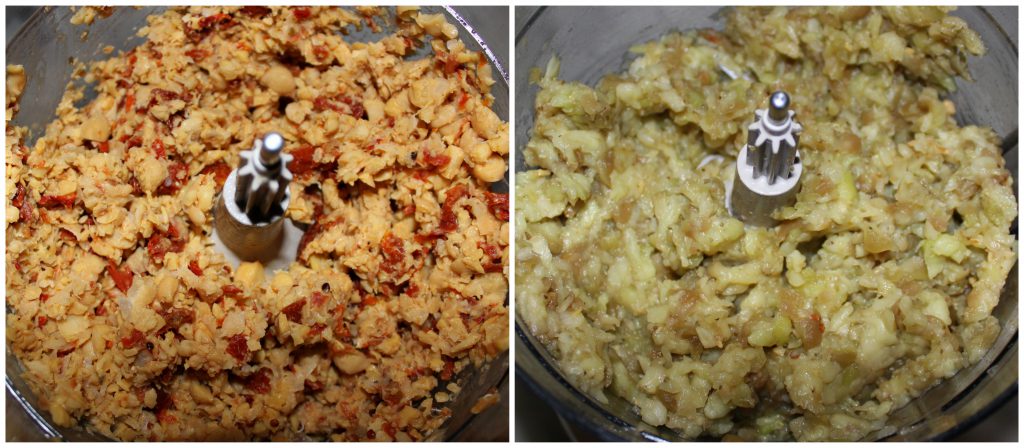 Sundried tomatoes and their nutritional value
About the sundried tomatoes there's one important thing – during the drying process tomatoes don't lose their nutrients. They are a great source of vitamin C and K and they contain good amount of potassium, iron and copper. Also chickpeas that are used to make this eggplant and sundried tomato vegan burger have their own benefits. For example, chickpeas are high in fiber and they contain vitamins A, C and B6. They also contain calcium, potassium and iron, and, of course, chickpeas are a good source of protein.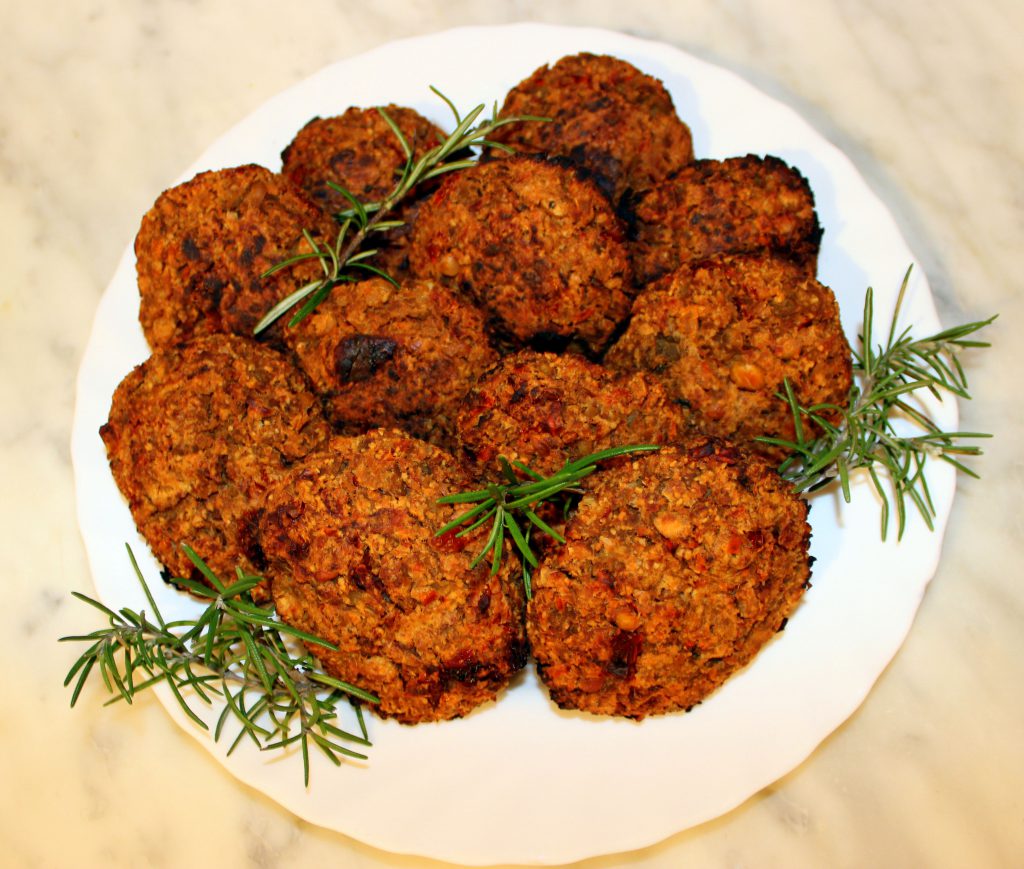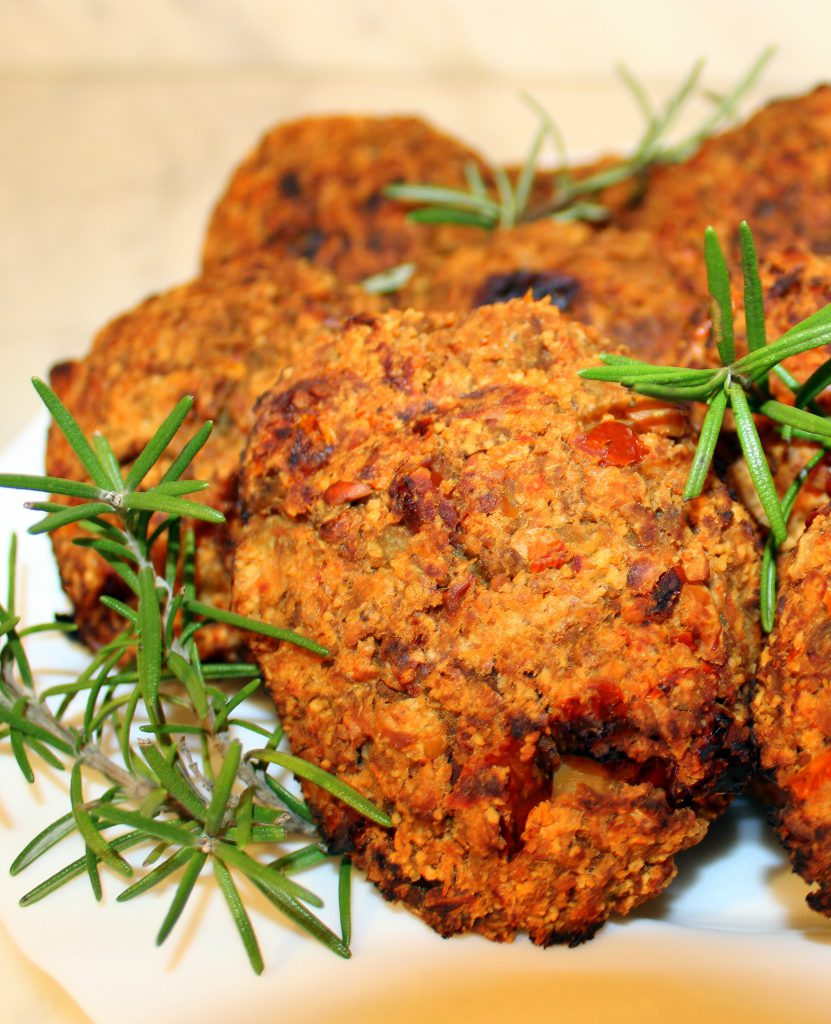 This eggplant and sundried tomato vegan burger tastes great both warm and cold. You can enjoy it together with Fresh and healthy farro salad or Caramelized oven-roasted vegetables. And even though it requires only 4 ingredients, I'm sure you will be surprised by the richness of its flavor. And all that without using spices! So, treat yourself with these tasty eggplant and sundried tomato vegan burgers, because they really are:
juicy

nutritious

flavorful

aromatic

crunchy on the outside and tender on the inside

easy to make

filling

healthy

and simply yummy!
Let me know, if you try this recipe! Leave a comment or even more – make Specky happy:! Snap a picture of your masterpiece and post it on Instagram or Facebook by tagging @bunnymommycooks. And feel free to let your animal family members join in the picture!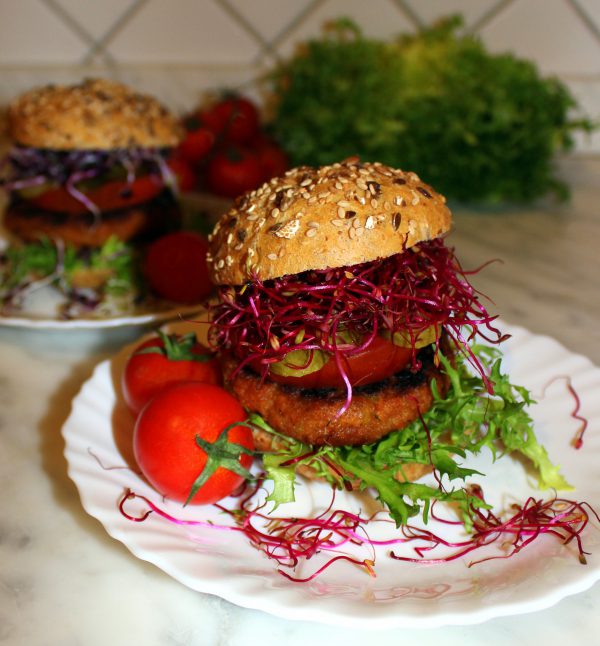 2

medium size eggplants/aubergines (~700 g)

150

g

of sun-dried tomatoes

250

g

of canned or cooked chickpeas

50

g

of breadcrumbs
2

medium size eggplants/aubergines (~700 g)

150

g

of sun-dried tomatoes

250

g

of canned or cooked chickpeas

50

g

of breadcrumbs
peel the eggplants and cut them in 1,5 – 2 cm thick slices. Place the slices on a plate that is covered with paper towel and put the plate in a microwave. Heat the eggplant slices in a microwave (800 W) for 5 minutes;

while the eggplant is in the microwave, put dried chickpeas (to dry them use paper towel) and sun-dried tomatoes in the food processor and pulse it a few times until both ingredients are turned into small chunks. Important – do not blend them completely! Put the prepared chickpea and sun-dried tomato mixture in a bowl;

when the eggplants are ready, take them out from the microwave, place a paper towel over them and press each slice with your hand to push out the remaining liquid. Attention – be careful because the liquid can be very hot! Put the dried eggplant slices in the food processor and pulse it a few times until the eggplant is turned into small chunks;

add the prepared eggplants to the chickpea and sun-dried tomato mixture, mix well and put the mixture in fridge for 15 minutes to cool down;

when the cooling time is over, take out the mixture from the fridge, add the breadcrumbs and mix everything together. The mixture must be quite dry and very sticky (if you used a different method to remove water from eggplants and they still added noticeable amount of liquid to the mixture, try to pour it out and/or increase the amount of breadcrumbs used);

start to create burger-form patties with your hands immediately. Line a baking tray or oven rack (for a more grilled-look burgers) with parchment paper and place the burgers on it. Cook the burgers at 200°C/390°F in a preheated oven for 15 minutes, then flip all the patties over and cook for another 10 – 15 minutes on the other side.
* diameter – around 7 cm/2.75"; thickness – around 2 cm/0.8"