Around Easter all the shelves in every supermarket get filled with chocolate bunnies and chocolate eggs. Since I have at home my own fluffy bunny with a character as sweet as chocolate, I don't need an edible chocolate bunny. And that's why this year for Easter I prepared chocolate eggs. But not the traditional ones that are full of sugar, butter etc. Instead I created delicious fruit-filled vegan chocolate Easter eggs that require only 3 ingredients!
To prepare these fruit-filled vegan chocolate Easter eggs you will need dark vegan chocolate, dried apricots and pomegranate seeds. Since the ingredients are so few, the preparation of these chocolate fruit candies is very quick and easy. Actually, it requires more time to patiently wait until the chocolate hardens than the preparation process itself. And by the way – if you like this combination of fruit and chocolate, try also my vegan coconut and blueberry donuts!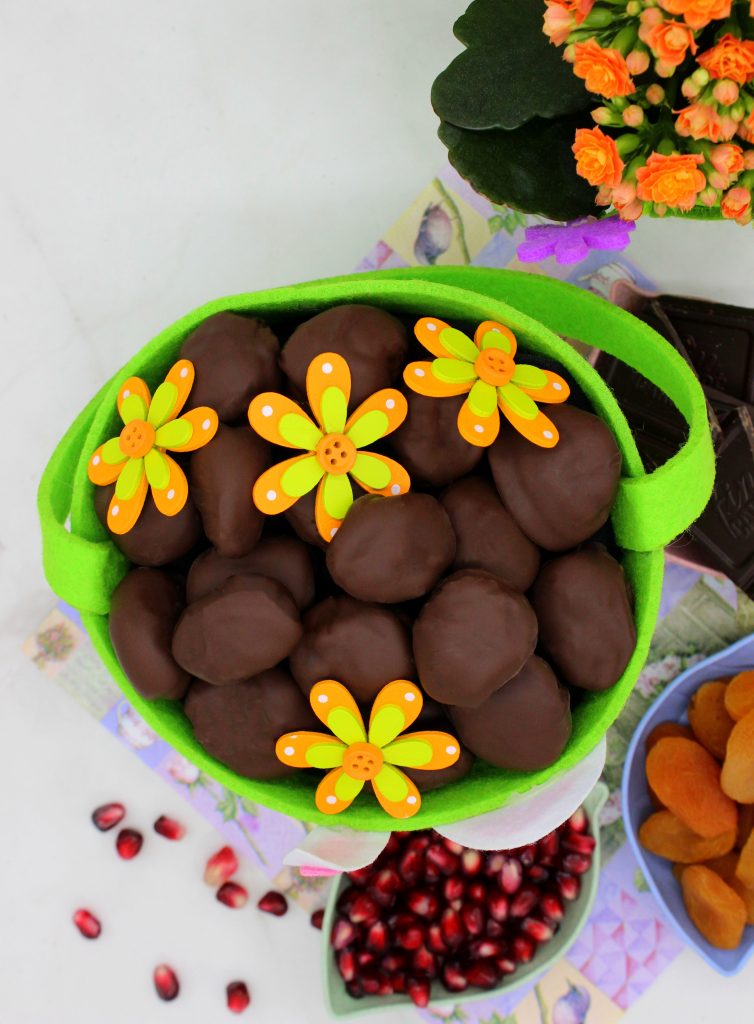 Why choose dark chocolate for the fruit-filled vegan chocolate Easter eggs
We all have heard that dark chocolate, eaten with moderation, is good for our body and mind. Be aware that I'm talking about dark chocolate with high percentage of cacao – at least 70%. It is considered to be one of the best sources of antioxidants. Isn't it great when something so delicious as dark chocolate turns out to be good for your health? I personally love this type of discoveries! Even if you are skeptical about this, I'm sure you'll agree that a piece of delicious high-quality dark chocolate can really lift up your mood. And that's because dark chocolate increases the levels of endorphins, or the so called "happiness hormones", in our brain. And that's why after eating a piece of chocolate you feel calmer and happier.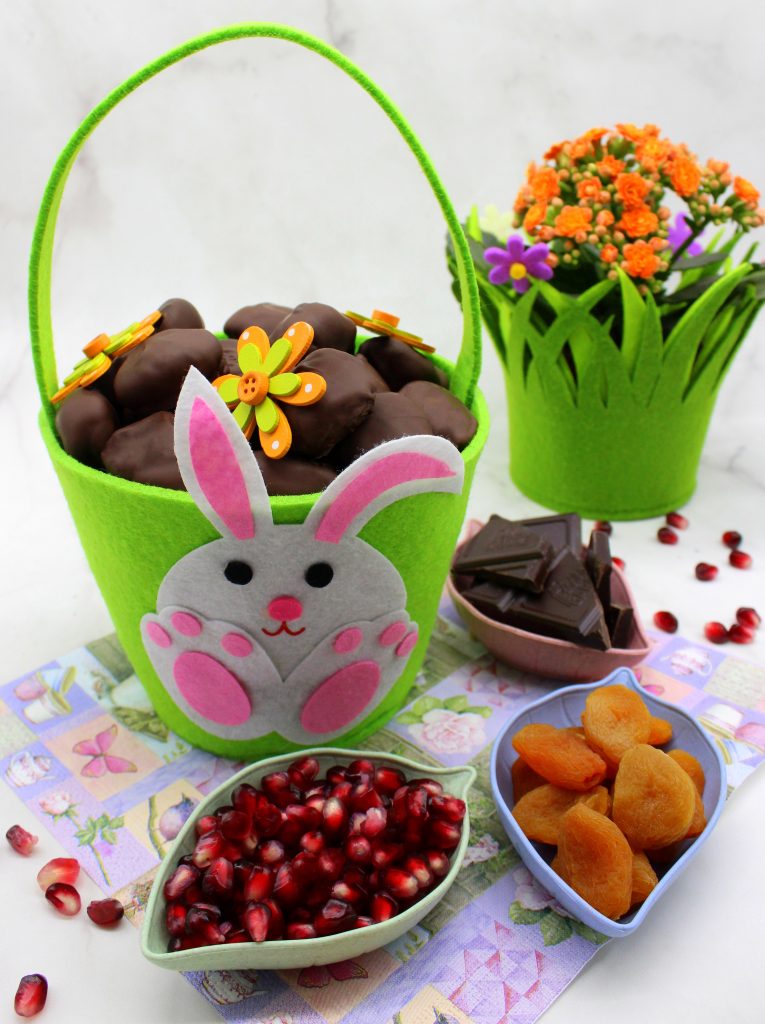 Health benefits from dried apricots and pomegranate
Dried apricots can produce hemoglobin, help with stomach burn and nausea, and in general contain great amount of vitamin A and others – B3, B6 and E. They also contain potassium, copper, iron, manganese, magnesium, phosphorus and calcium. Equally loaded with valuable nutrients is pomegranate. There are several ways how to reach the seeds that this fruit hides inside. You can easily find tutorial videos on Internet to decide which method is the most suitable for you. I personally prefer to use the underwater method to separate the seeds from the skin and membrane. It's quick, easy and without making any mess! Pomegranate contains great amount of vitamins K and C, as well as other vitamins – B1, B2, B5, B6, B9. It contains also such minerals as copper, potassium, manganese and phosphorus. Basically these fruit-filled vegan chocolate eggs are a valuable nutrient bomb for your body!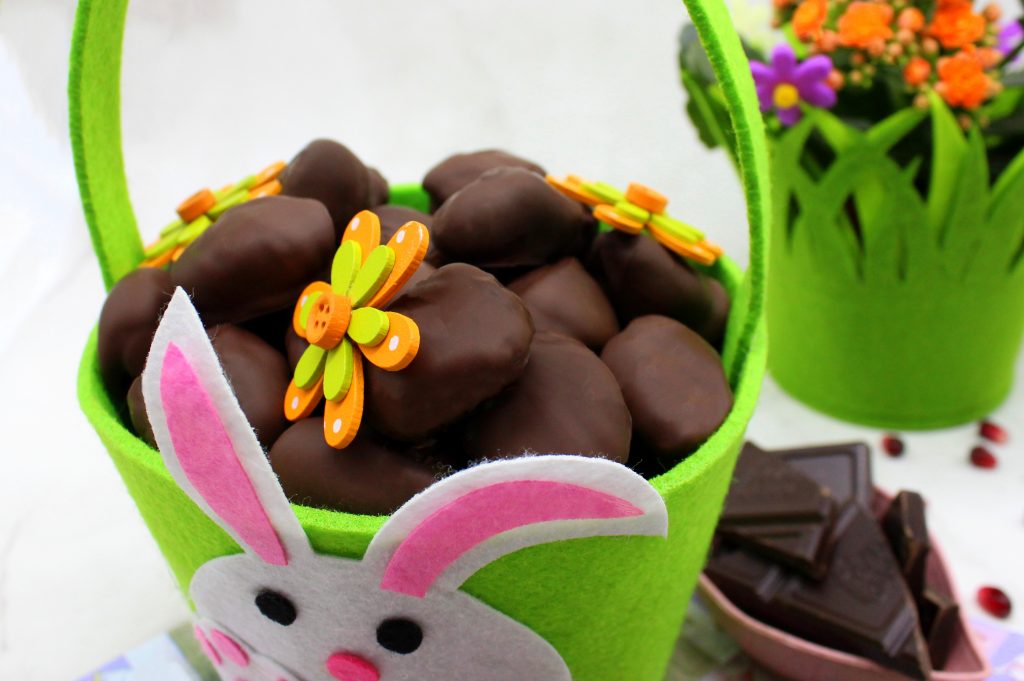 The versions of the origins of the word "pomegranate" are many. But at the end they all have the same meaning, which is "the apple of seeds". My fluffy Easter bunny Specky definitely is a fan of apples. But not that much of this strange "apple of seeds". That's why he sticks to the fruit that he knows well – an apple. But you shouldn't follow Specky's example and let him stop you from trying this recipe. Because it really has the potential to become your new favorite recipe for vegan chocolate candies!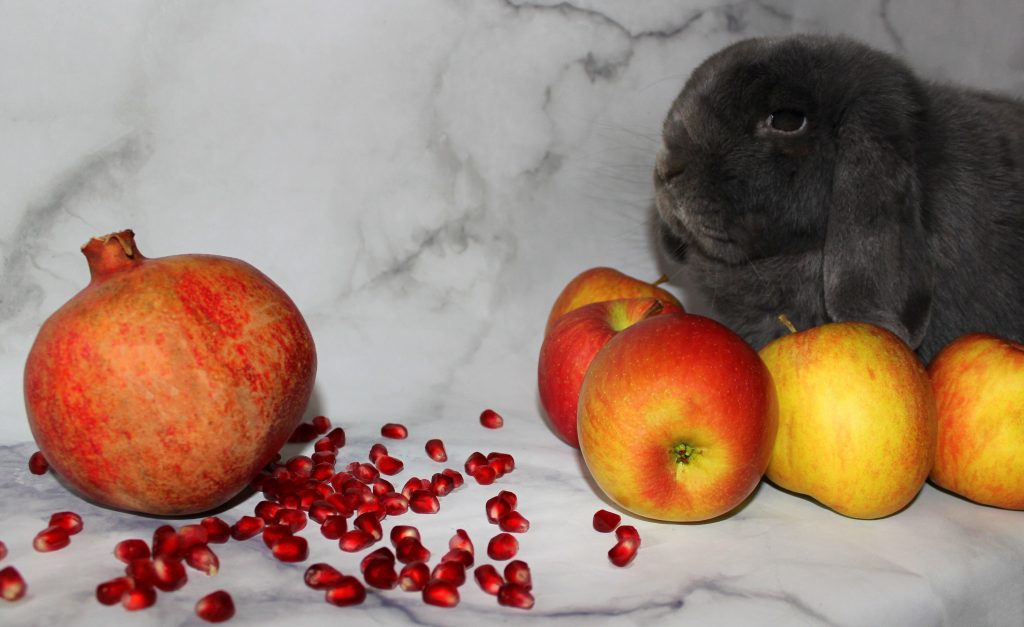 Vegan chocolate candies made of only 3 ingredients
It will require you less than 30 minutes of work and only 3 ingredients to prepare these delicious fruit-filled vegan chocolate candies. During the Easter period they can be used as vegan chocolate eggs. This delicious bite-size snack is a real explosion of different flavors in your mouth. For Easter or not, simply try these vegan chocolate candies that are:
juicy
chewy
soft
bite-size
fruit-filled
sweet & sour at the same time
refreshing
quick and easy to make
chocolaty
flavorful
and simply yummy!
Let me know, if you try this recipe! Leave a comment or even more – make Specky happy! Snap a picture of your masterpiece and post it on Instagram or Facebook by tagging @bunnymommycooks. And feel free to let your animal family members join in the picture!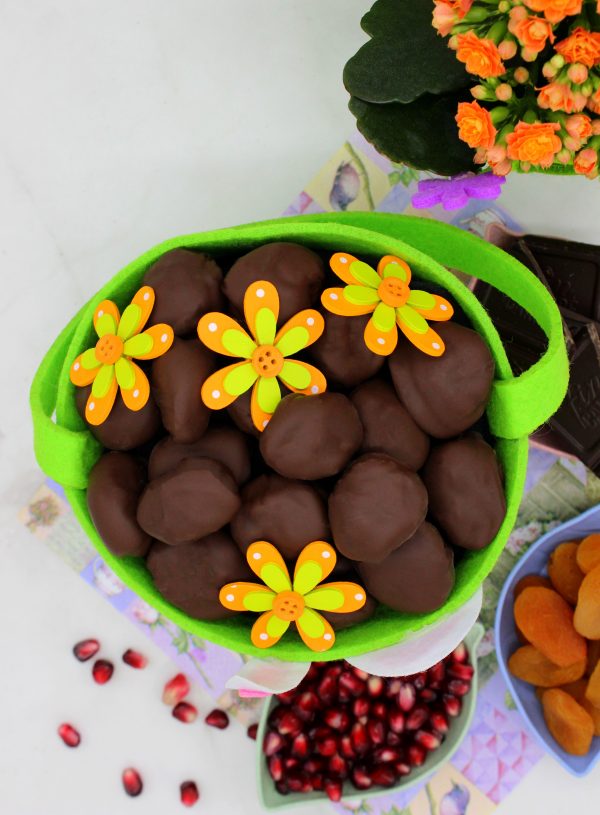 | | |
| --- | --- |
| Servings | chocolate eggs/chocolate candies |
20

dried apricots

45

g

of pomegranate seeds

(~110 seeds)

120

g

of dark vegan chocolate
| | |
| --- | --- |
| Servings | chocolate eggs/chocolate candies |

20

dried apricots

45

g

of pomegranate seeds

(~110 seeds)

120

g

of dark vegan chocolate
find the opening, through which the apricot kernel has been removed, and fill every dried apricot with pomegranate seeds by being careful not to crush them. Every apricot must be filled in a way so that it's still possible to stick the opening parts together in order to close the apricot and create an egg shape. It should be easy to close the fruit since dried apricots usually are quite sticky;

when all the apricots are filled with pomegranate seeds, melt the dark chocolate either in a microwave (use low power to avoid burning the chocolate) or in a water bath (bain marie). Let the chocolate cool down a bit, until it's not burning hot anymore, and then start to cover every filled apricot by dipping it in the melted chocolate. Before transferring every chocolate covered apricot to a plate that is covered with non-stick baking paper, use a fork to let the excess chocolate drop off;

place the chocolate covered apricots in fridge for 20 – 30 minutes. Once the chocolate has hardened, the vegan chocolate candies with fruit filling are ready.