When it comes about breakfast, what type of flavor do you prefer – sweet or savoury? I guess, I could say that in Northern Europe it's more common to have savoury breakfast, while in the south people usually eat something sweet as the first thing in the morning. Well, to judge what is healthier is up to you. In my opinion, no matter if your breakfast is sweet or savoury, you should always go for good quality ingredients that are full of all the necessary nutrients. And the best way to do that, is by preparing your breakfast meal by yourself! For example, in this case by preparing healthy vegan granola with coconut and cranberries.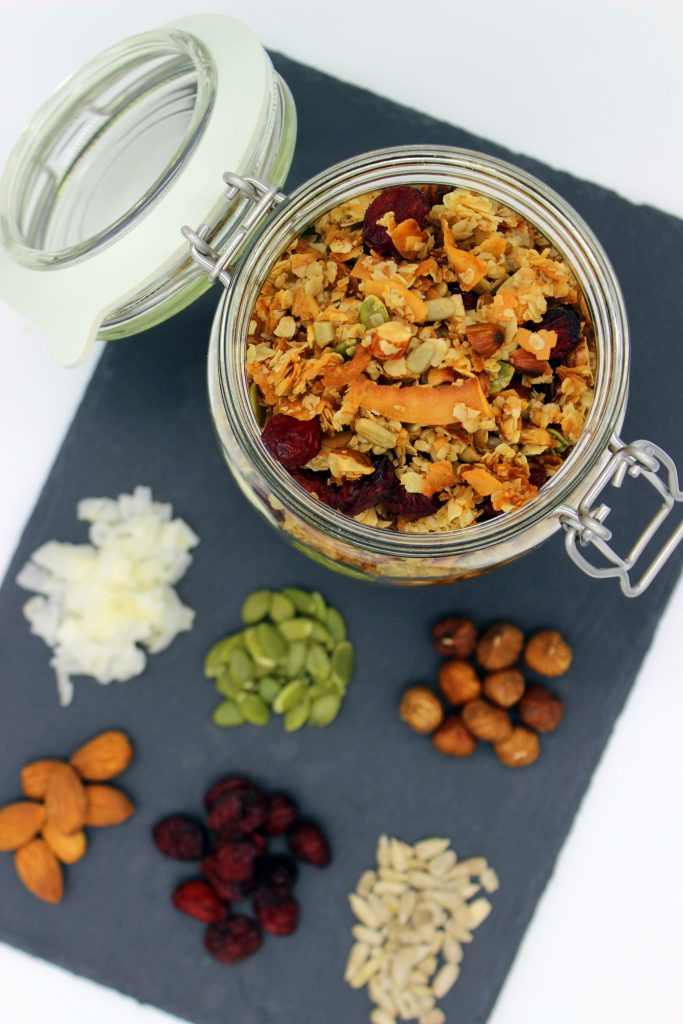 Of course, it's always much easier to buy pre-packed breakfast cereals than to make granola by yourself. But don't make yourself believe that it is something very time consuming or difficult. Actually, you just need to mix all the ingredients together and bake them in the oven! Sounds super easy, right? It really is! I always prepare this granola in big quantities and keep it in an airtight container. In such a way my family can enjoy healthy and delicious breakfast every morning! This healthy vegan granola with coconut and cranberries tastes great together both with non-dairy milk and non-dairy yoghurt. My partner is a coconut lover, so he really likes this granola. But when he enjoys it with a non-dairy coconut yoghurt, he says that it tastes even better! You should also try it!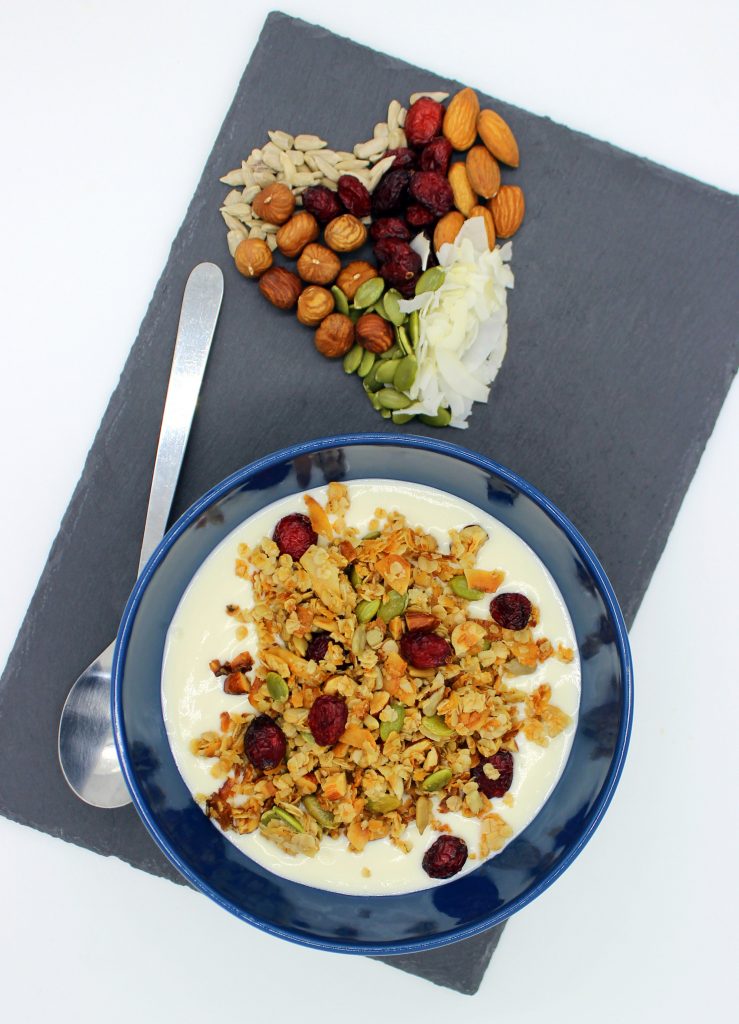 Nutritional value of healthy vegan granola with coconut and cranberries
Apart from coconut flakes and dried cranberries, this vegan granola contains also different seeds and nuts like almonds, hazelnuts, pumpkin seeds and sunflower seeds. All of which contain valuable nutrients for our body. For example, almonds contain big amount of vitamin E and also other vitamins – B1, B2, B3, B9. They are rich in manganese and contain also such minerals as magnesium, copper, phosphorus, calcium, iron and potassium. Hazelnuts can provide our body with good amount of vitamins E, B1, B6, B9, K and such minerals as manganese, copper, magnesium, phosphorus, iron, potassium, zinc and calcium. Sunflower seeds are well known for their high content of vitamin E. But they contain also vitamins B1, B3, B6, and minerals – selenium, phosphorus, manganese and magnesium. Also pumpkin seeds are a great source of manganese, phosphorus, copper, magnesium, zinc, iron and on top of that – vitamin K.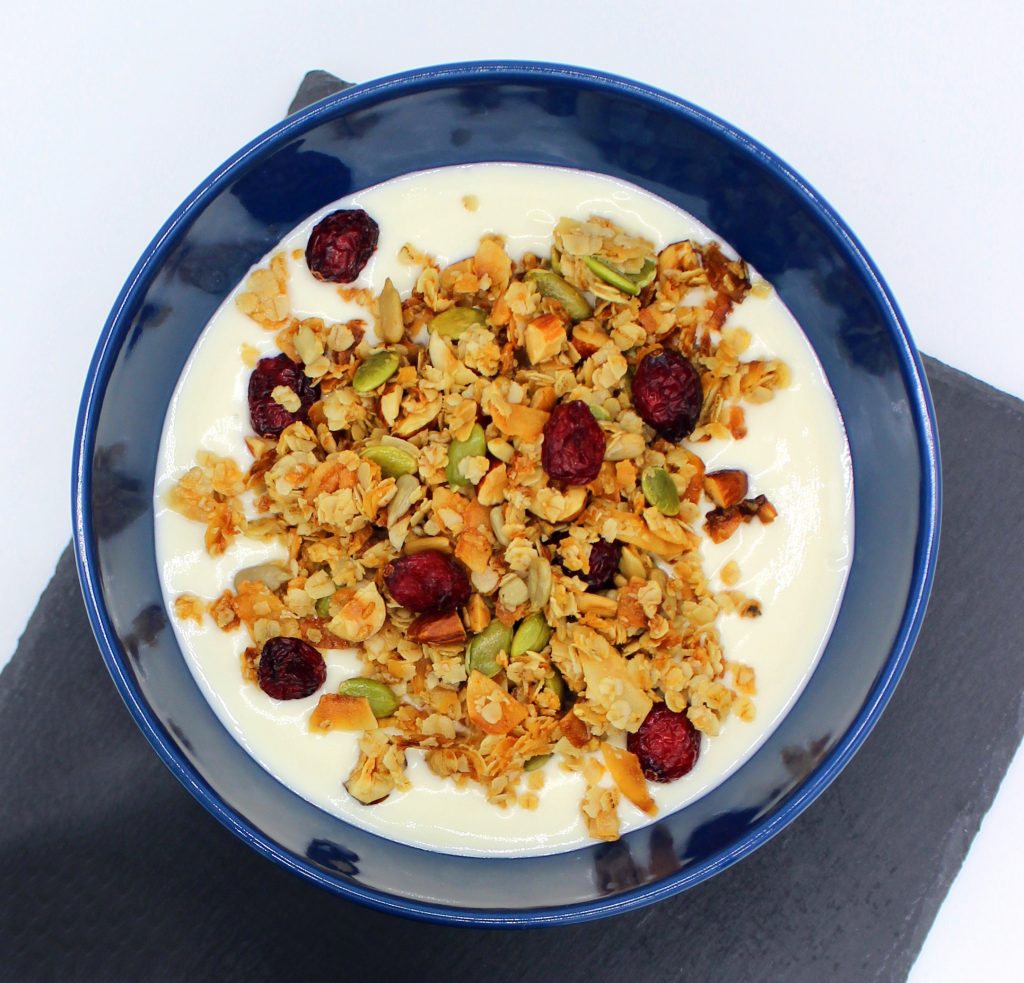 The main ingredient of this healthy vegan granola is rolled oats. You should always go for rolled oats instead of instant oats, because they are less processed. I have made this granola also with instant oats. The flavor is great in any case, but still – less processed oats are better for your health! Rolled oats contain protein, good amount of dietary fiber, vitamin B1 and in small doses also other vitamins, and minerals – manganese, phosphorus, selenium, magnesium and zinc.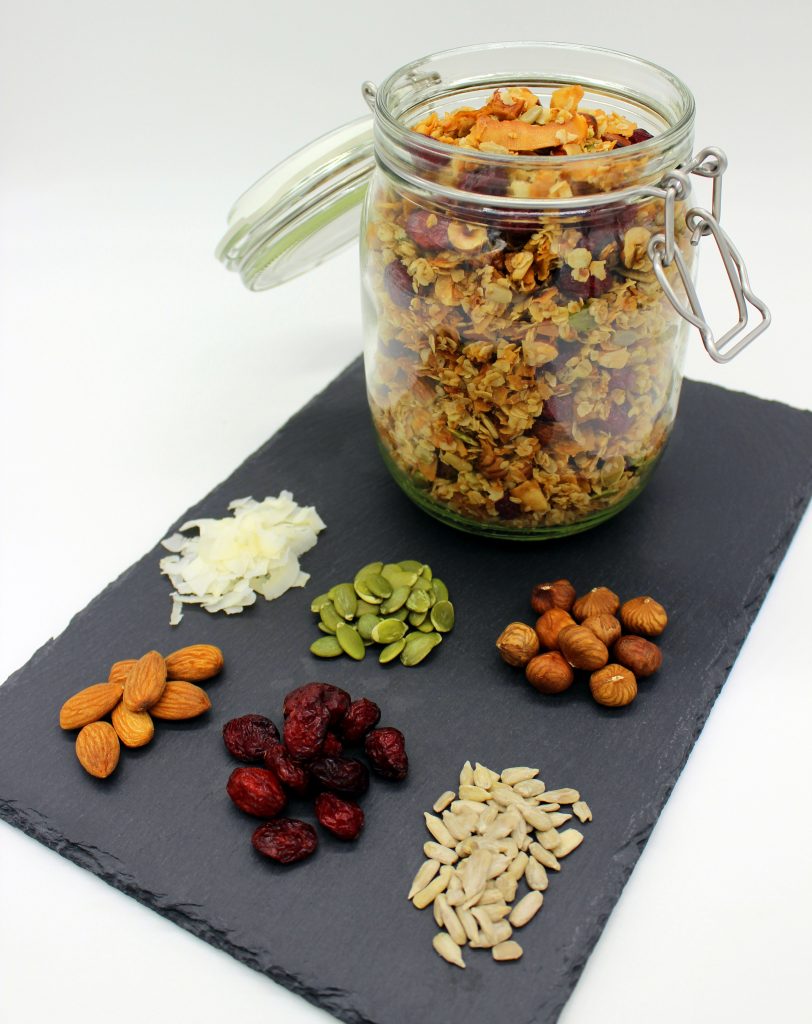 How to prepare healthy vegan granola
Even though granola usually looks fancier than the regular breakfast cereals, don't let that confuse you. It's very easy to make it at home! To prepare this healthy vegan granola with coconut and cranberries you'll need to mix together all the aforementioned seeds and nuts, rolled oats and coconut flakes. Then you'll need to mix in coconut oil and maple syrup, and put your granola to bake in the oven. In about half an hour it will be ready and then the only thing missing will be just to add some dried cranberries on top. Besides the delicious granola, you'll also get a wonderful aroma in your house. Once that granola mixture is in the oven, your kitchen will be filled with delicious aroma of roasted nuts, seeds and coconut flakes.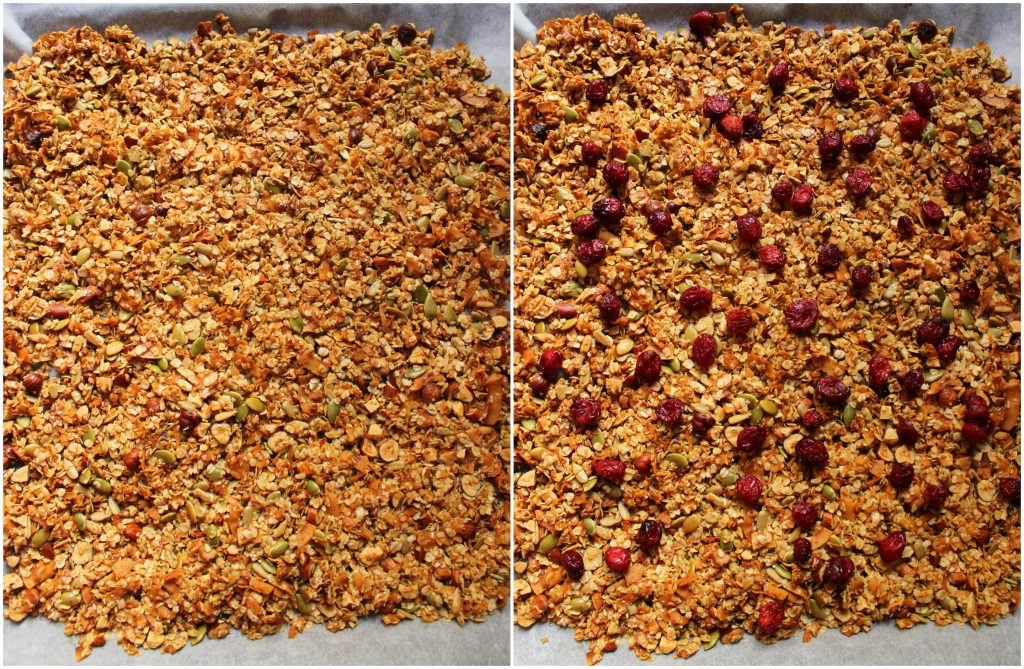 This vegan granola will definitely give you a boost of energy to start a new day! It's sad that Specky cannot eat this type of food… Maybe then he wouldn't be such a sleepyhead! Even though lately I tend to think that he sleeps so much just because he knows that he looks supercute in his sleep!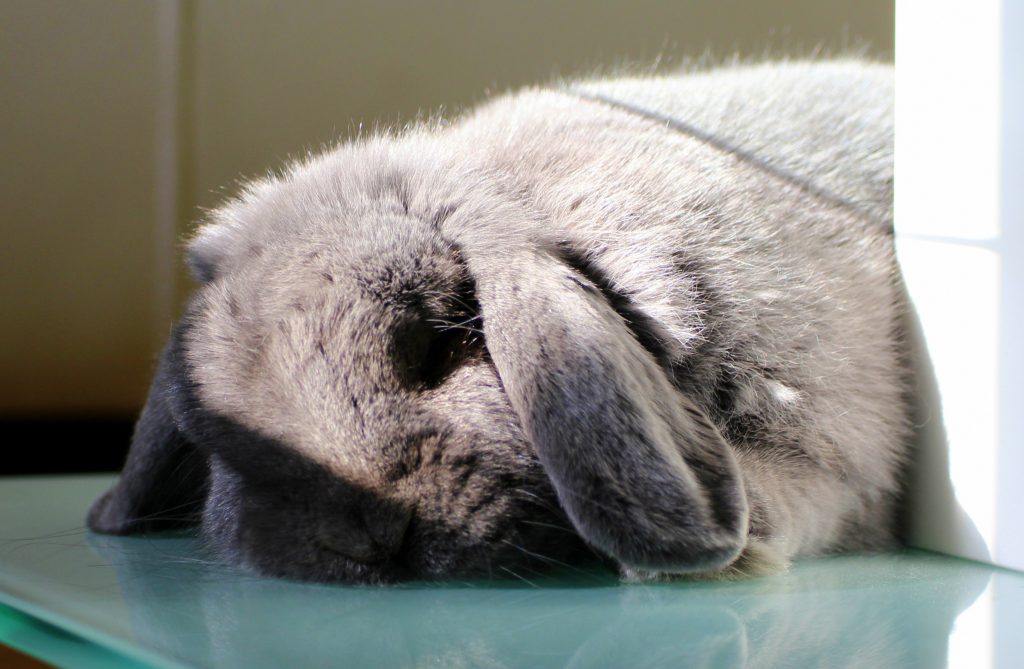 Anyway, if you like sweet breakfast with coconut flavor, I suggest you to try also my fluffy vegan coconut pancakes! Or, if instead from time to time you prefer savoury but still healthy breakfast, check out my recipe for avocado toast with fresh radishes!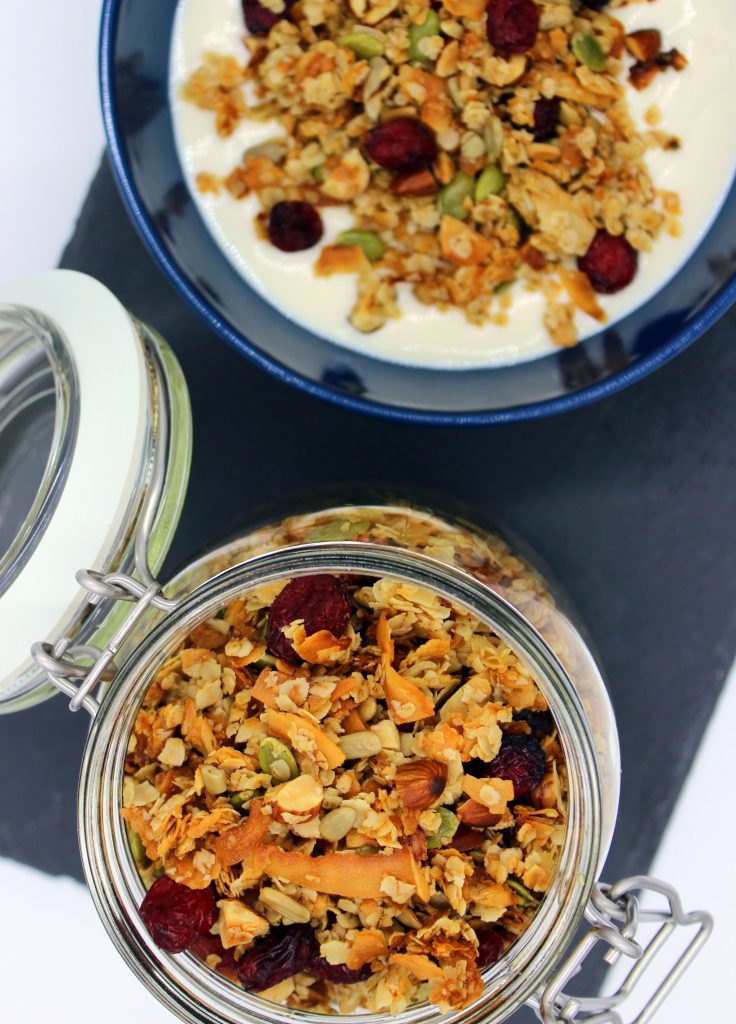 I dare you to keep your hands off the granola until the next morning! It is so delicious that you'll want to enjoy a bowl of it even if it's already dinner time! Now you're probably thinking, how good does it taste… Well, discover it by yourself by preparing this granola, which is:
vegan

healthy
crunchy
nutritious
deliciously aromatic
easy to make
filling
coconutty
flavorful
and simply yummy!
Let me know, if you try this recipe! Leave a comment or even more – make Specky happy! Snap a picture of your masterpiece and post it on Instagram or Facebook by tagging @bunnymommycooks. And feel free to let your animal family members join in the picture!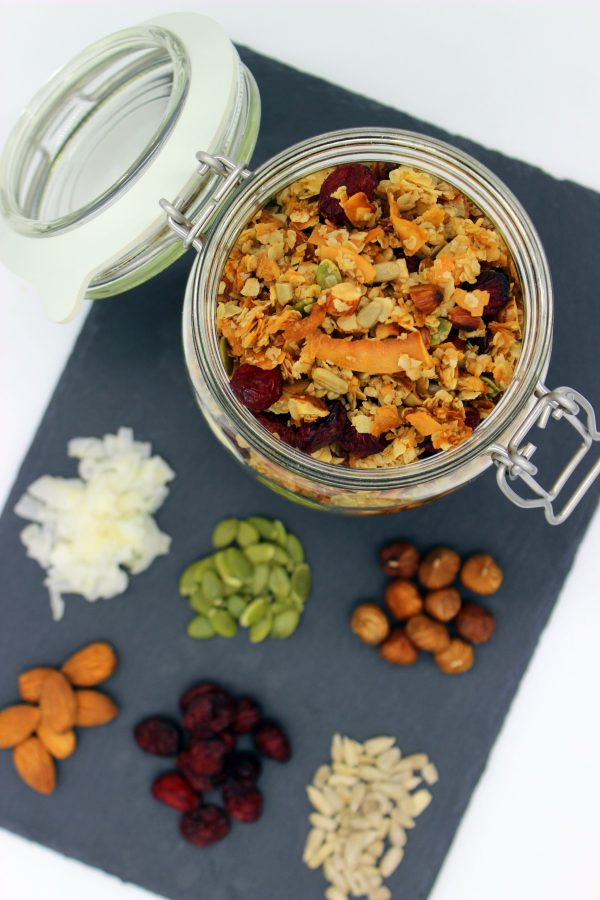 200

g

of rolled outs

50

g

of pumpkin seeds

50

g

of sunflower seeds

50

g

of almonds

50

g

of hazelnuts

100

g

of large coconut flakes

60

g

of dried cranberries

100

ml

of coconut oil

50

ml

of maple syrup
200

g

of rolled outs

50

g

of pumpkin seeds

50

g

of sunflower seeds

50

g

of almonds

50

g

of hazelnuts

100

g

of large coconut flakes

60

g

of dried cranberries

100

ml

of coconut oil

50

ml

of maple syrup
heat the oven to 160°C/320°F;

chop almonds and hazelnuts in smaller pieces – each hazelnut in ~4 parts and each almond in ~5 parts;

in a big bowl mix together chopped nuts, rolled outs, seeds and coconut flakes;

in a glass mix together liquid coconut oil* (check notes) and maple syrup, then pour it over the dry ingredients and mix everything well together until all the dry ingredients have turned slightly moist;

line a baking tray with parchment paper and transfer the mixture on it by creating an evenly thin layer;

place the baking tray in the oven in the second compartment from the bottom and bake the granola for 20 minutes;

after 20 minutes mix it and put back in the oven for extra 5 – 10 minutes;

take the baking tray out of the oven, add over the baked granola dried cranberries and let it all cool down completely;

when the granola has cooled down completely, store it in an airtight container.
* if coconut oil is solid, melt it in a microwave or water bath (bain marie)