"Where do you get your protein?" Probably this is a question that every vegan has heard at least once in their life. Of course, the reason why this question pops in the minds of omnivores is quite clear. Our brain has always been filled with such information as "meat is the best source of protein". "Cow's milk is the best source of calcium" etc. And for such reason most of the time we don't pay attention to obvious things. Like that there are so many food products, apart from meat, that contain protein. Anyway, if you are worried about your protein intake or you simply want to increase it without harming animals, try these healthy vegan no-bake protein bars!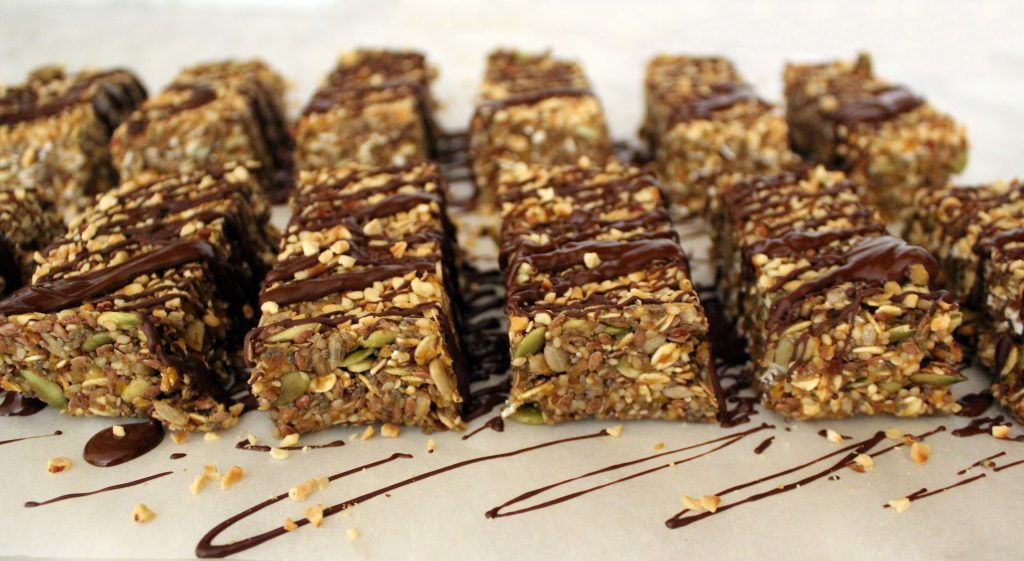 Necessary ingredients for healthy vegan no-bake protein bars
All of us know that seeds are very healthy for our body for many different reasons. But sometimes we just don't know how to incorporate them in our daily menu. Of course, you can always add some seeds to your salad, smoothies, vegan yoghurt or creamy soups. But the quantity of seeds used in the aforementioned way will be quite limited. If you are willing to change that and consume more seeds to benefit your health, I really recommend you to try this recipe. Because guess what's the main ingredient of these protein bars? You are right! – Seeds! In this recipe I used five different type of seeds. But you can always substitute some of them with others to adjust the bars to your taste.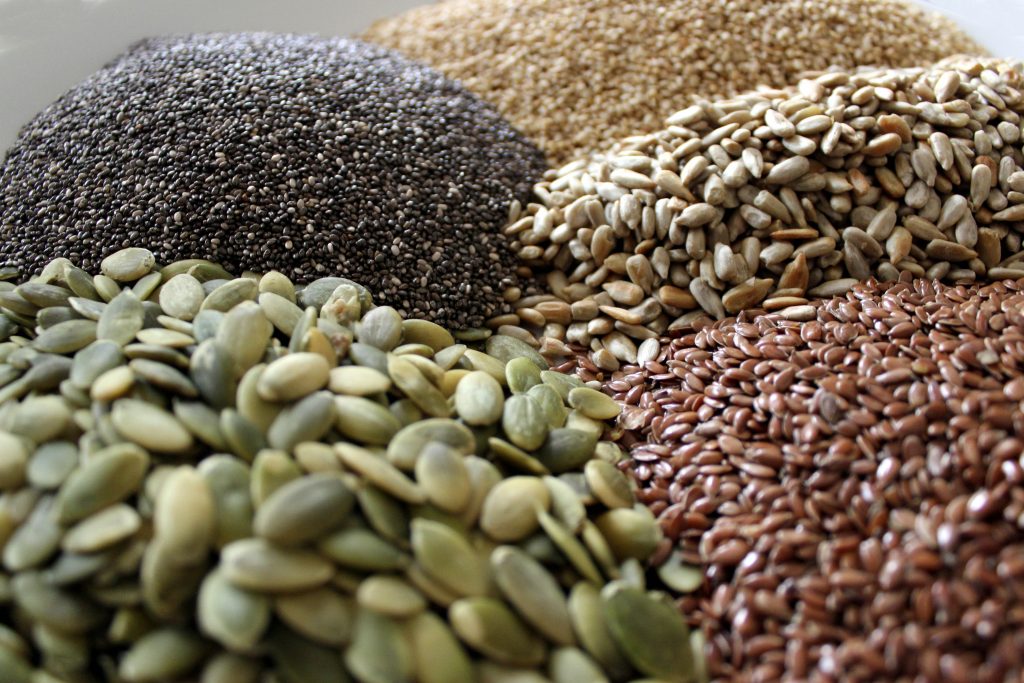 The other ingredients, like dates and dried apricots, are mainly used to create a sticky mass that holds all the seeds together. Both dates and apricots have their own health benefits. But this time I would like to concentrate more on the benefits of seeds. Just one thing – I decided to use also dried apricots instead of only dates to reduce the sweetness. But if you prefer them very sweet, feel free to use just dates, obviously by increasing their quantity.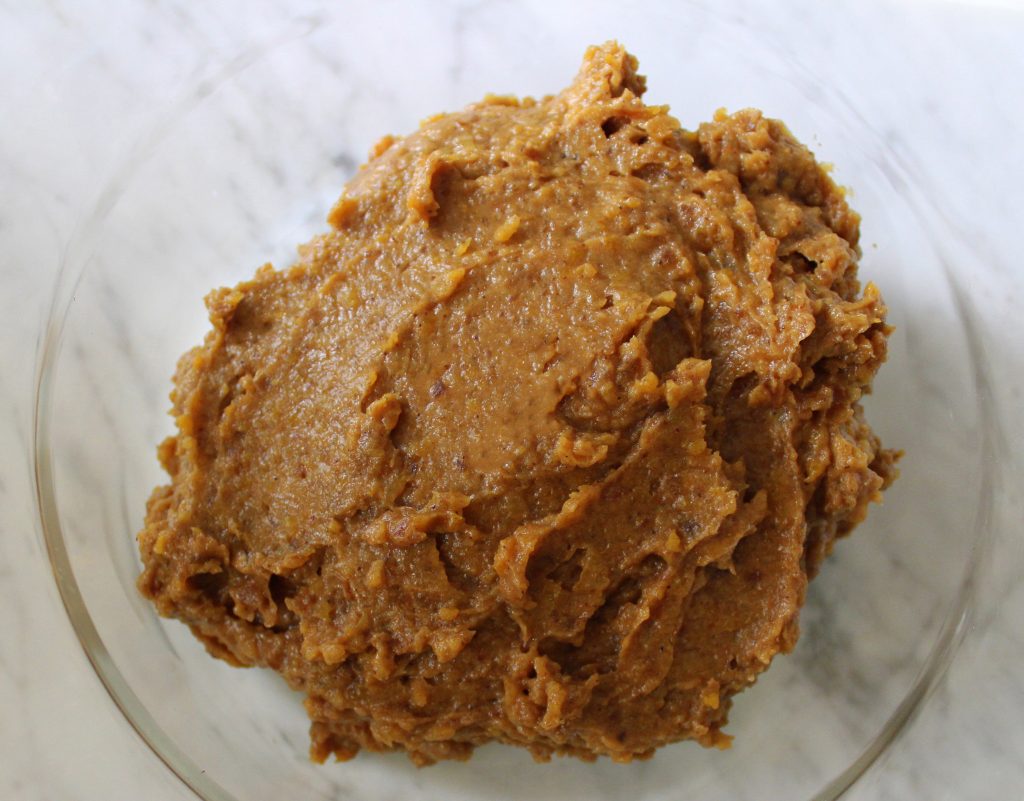 Nutritional value of the seeds
To make these healthy vegan no-bake protein bars you'll need: chia seeds, flaxseeds, sesame seeds, sunflower seeds and pumpkin seeds. In the last years chia seeds have become very popular. They are rich in fiber, protein, omega-3 fatty acids and antioxidants. They contain A, B, D and E vitamins and minerals – manganese, phosphorus, iron, calcium and zinc. Chia seeds are known for helping you lose weight and keep your teeth and bones strong and healthy.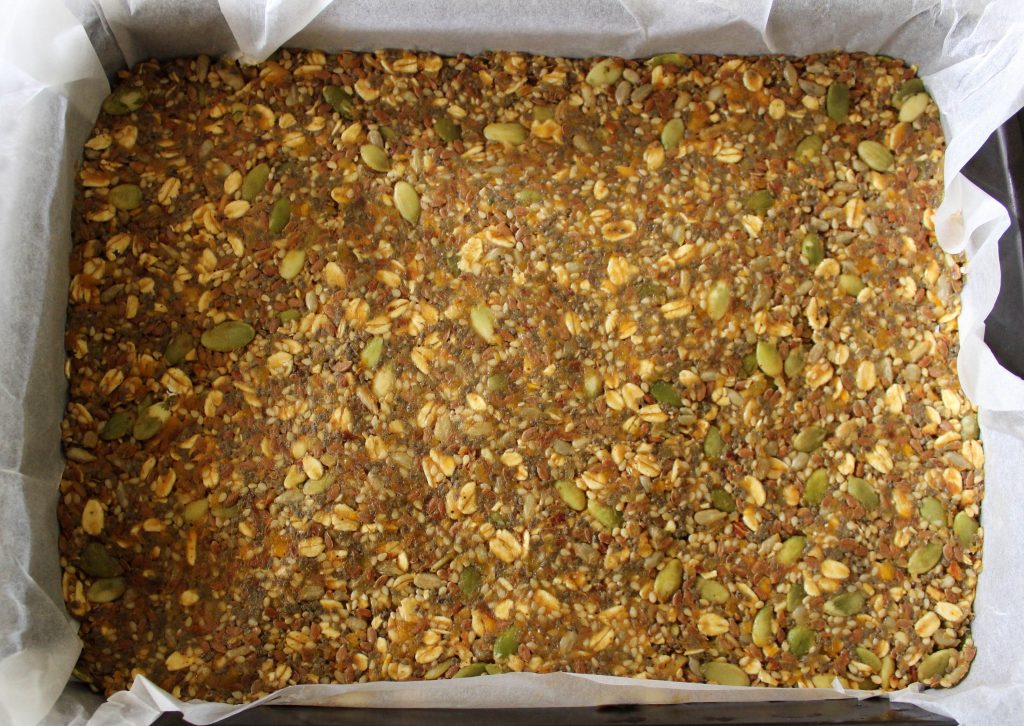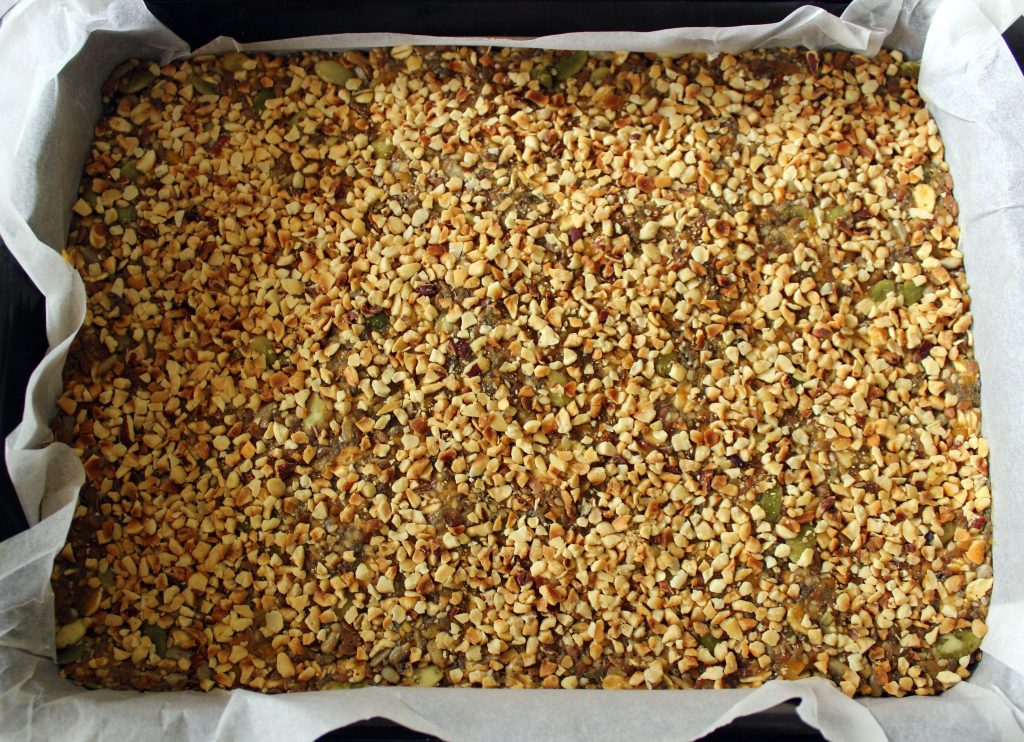 Very similar health benefits to those of chia seeds have also flaxseeds. Flaxseeds are rich in fiber, protein and omega-3 fatty acids. They contain vitamins B1 and B6 and such minerals as magnesium, phosphorus, calcium, iron and potassium. Regular consumption of flaxseeds can make your skin and hair healthier and decrease hormonal imbalance symptoms.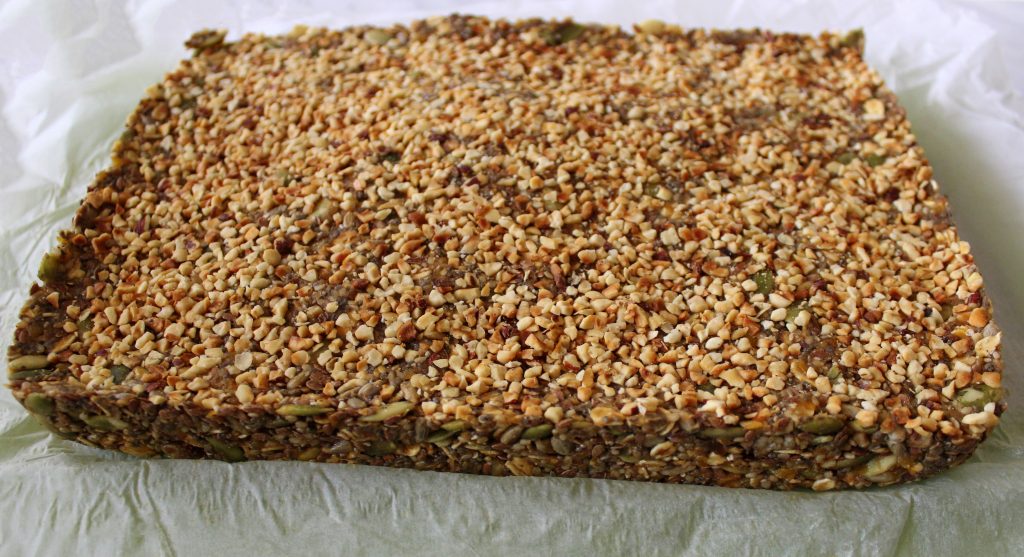 Visually similar to flaxseeds and equally good for our health are sesame seeds. Sesame seeds contain copper, manganese, calcium, phosphorus, magnesium, iron, zinc, selenium, vitamins B1 and B6, omega-3 fatty acids, fiber and protein. Sesame seeds can improve your digestion and your skin and hair health. Decent amount of copper can be found also in the fourth type of seeds used in this recipe – sunflower seeds. Sunflower seeds contain significant amount of vitamin E, other vitamins like B1, B3, B6, and other minerals like selenium, phosphorus, manganese and magnesium. Also some dietary fiber and protein. The most known health benefit of sunflower seeds is their help in reducing the risk of heart diseases.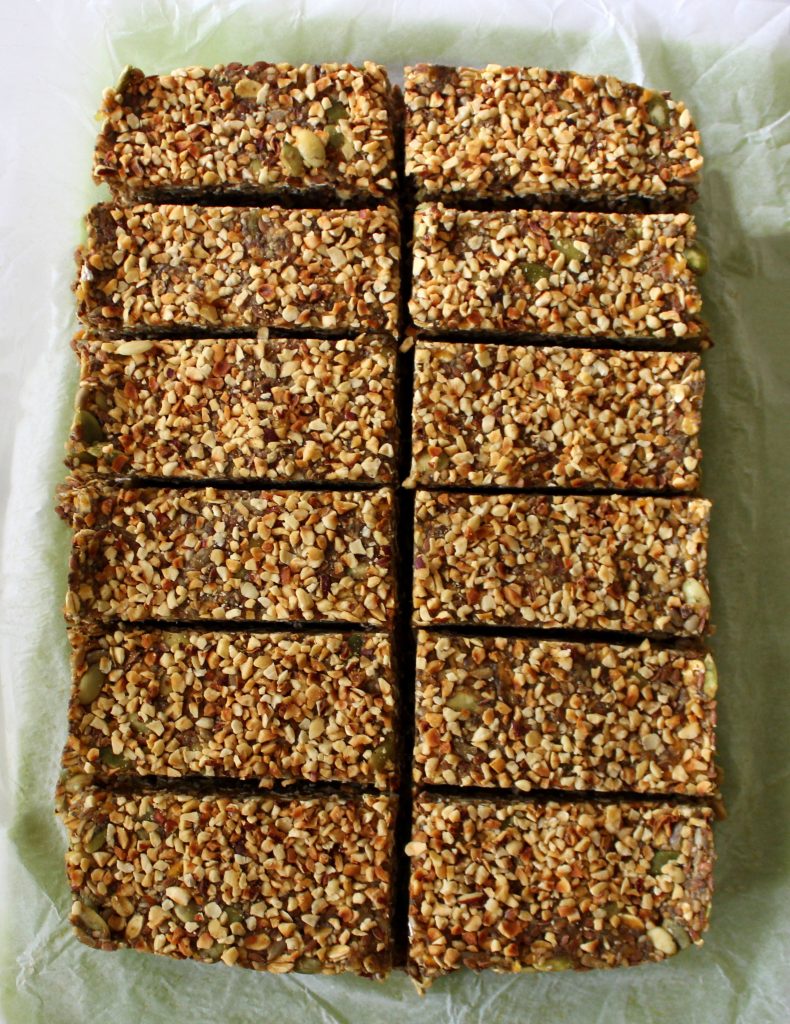 Last but not least are pumpkin seeds, which are great source of manganese, phosphorus, copper, magnesium, zinc, iron, vitamin K and protein. Pumpkin seeds can be used to fight insomnia, to strengthen your immune system and they are known to be beneficial for men's health.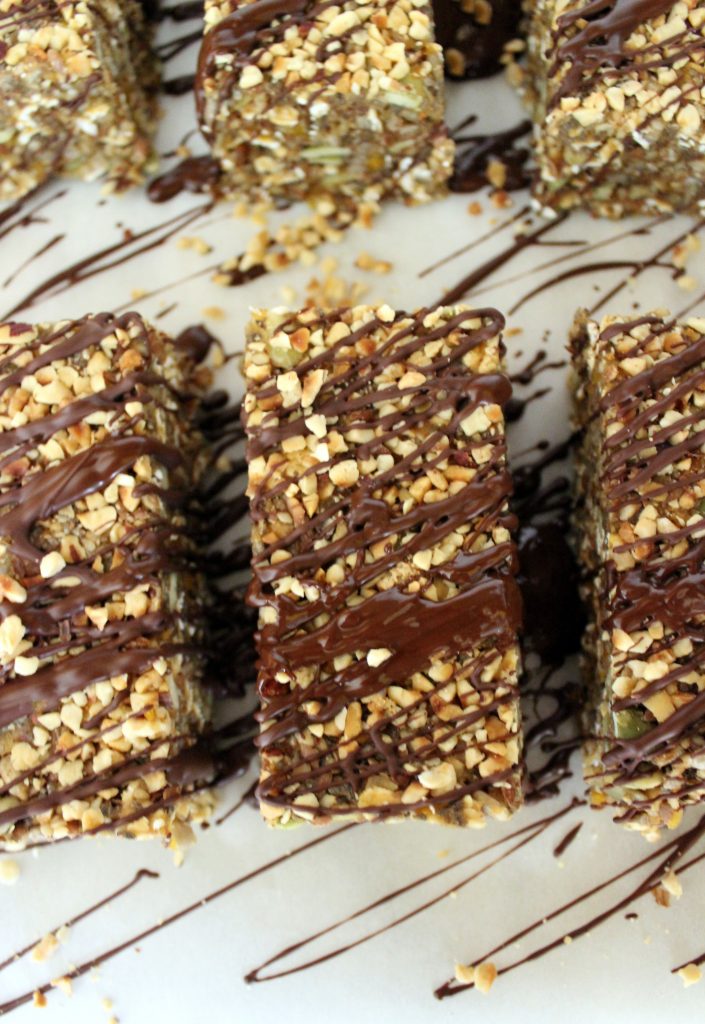 Don't forget to add rolled oats
Probably after reading all these great benefits that seeds can give you, your hands are already reaching for the necessary ingredients to prepare these healthy vegan no-bake protein bars. Don't forget to add also rolled oats, which apart from protein contain also manganese, iron, phosphorus, zinc and vitamins B1 and B5. At the end cover your bars with some finely chopped hazelnuts and melted dark chocolate. Why? To make them even more delicious. More delicious for humans, of course, not for bunnies. During the preparation of these protein bars Specky decided that it's wiser to spend some time in the garden to eat some yummy fresh grass. Since this recipe doesn't include anything that could become his snack.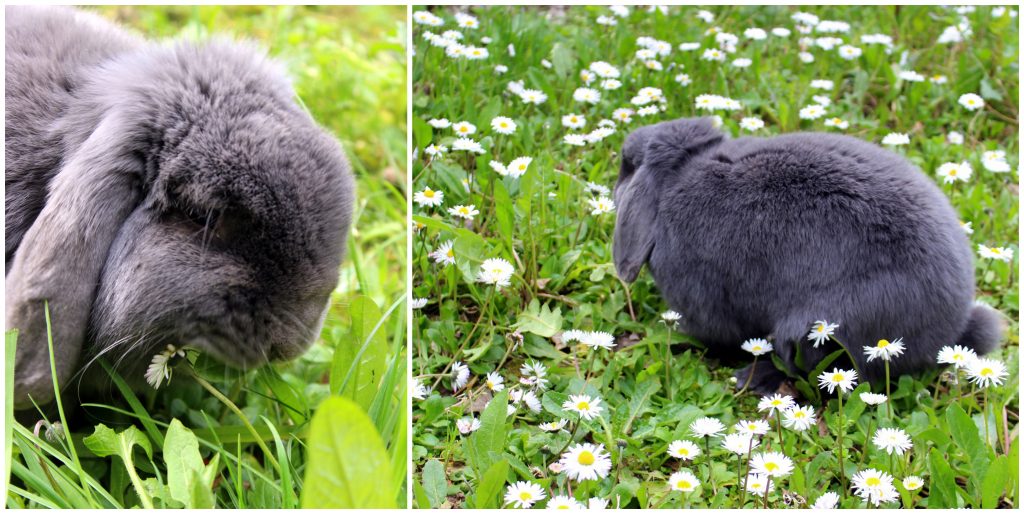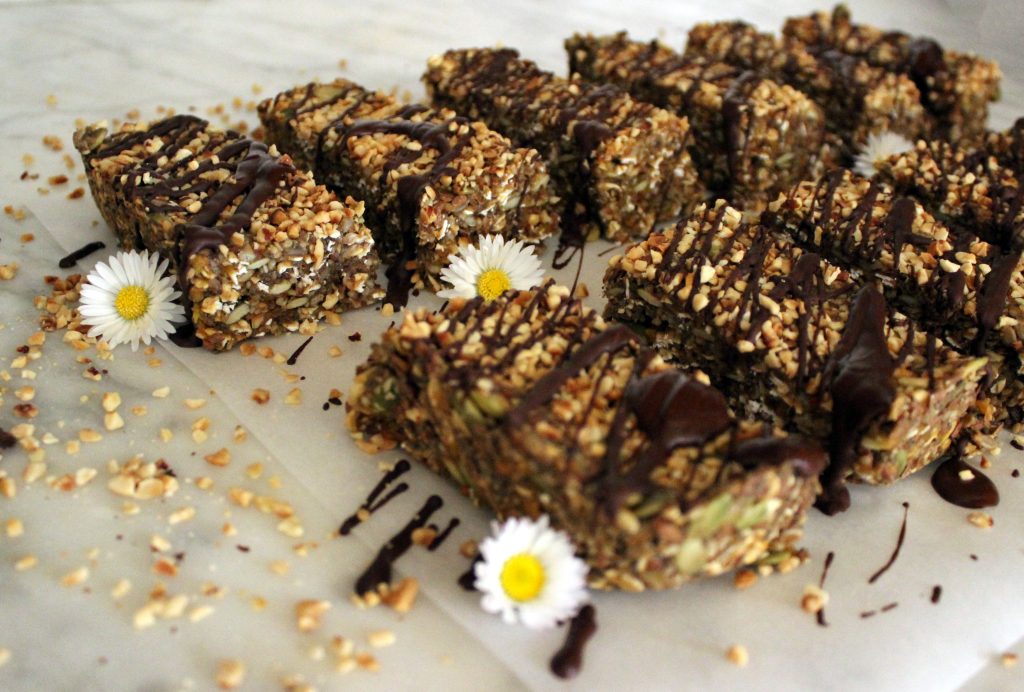 Important thing – be aware that the quantity of the ingredients that I used is quite big. I mean, at the end you get a mixture that weighs around 1 kg… Ok, ok, my bad! But I must admit that I made my bars that big also so that they would fill my tummy in the moments when I'm pushed to skip a meal. In any case you can always reduce the quantity of ingredients or simply cut the mixture in smaller pieces to get more small-sized bars. In any case these healthy vegan no-bake protein bars will be:
rich in protein
full of minerals
full of vitamins
healthy
filling
easy to make
and simply yummy!
Let me know, if you try this recipe! Leave a comment or even more – make Specky happy! Snap a picture of your masterpiece and post it on Instagram or Facebook by tagging @bunnymommycooks. And feel free to let your animal family members join in the picture!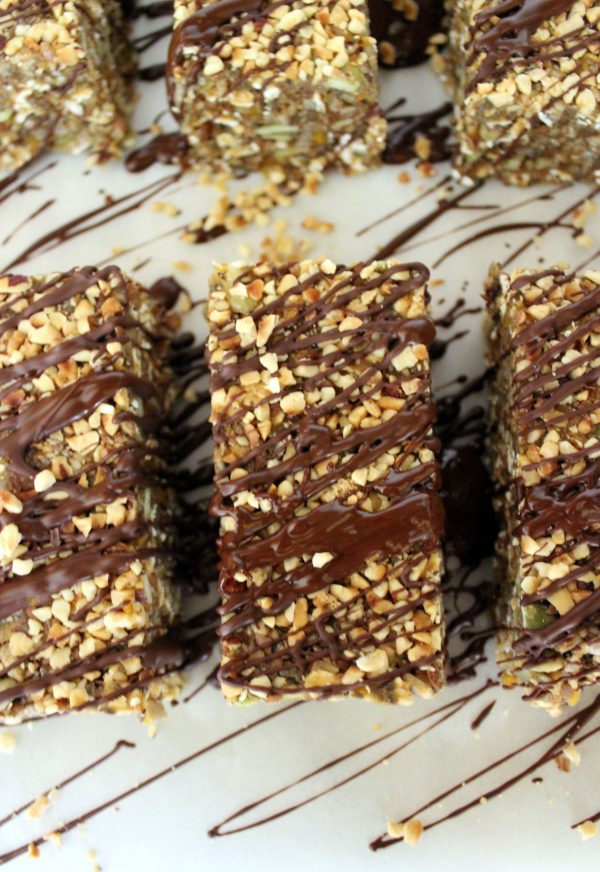 200

g

of pitted dates

200

g

of dried apricots

100

g

of chia seeds

100

g

of flaxseeds

100

g

of sesame seeds

100

g

of sunflower seeds

100

g

of pumpkin seeds

150

g

of rolled oats

100

g

of finely chopped hazelnuts (optional)

100

g

of dark vegan chocolate (optional)

hot water (to soak the dates)
200

g

of pitted dates

200

g

of dried apricots

100

g

of chia seeds

100

g

of flaxseeds

100

g

of sesame seeds

100

g

of sunflower seeds

100

g

of pumpkin seeds

150

g

of rolled oats

100

g

of finely chopped hazelnuts (optional)

100

g

of dark vegan chocolate (optional)

hot water (to soak the dates)
cover the pitted dates with hot water and let them soak for 5 minutes. In case the chosen apricots are not fresh and have dried up too much, soak also them together with dates. Otherwise, if the apricots are soft, do not soak them;

while the dates are soaking, in a big bowl mix together all the seeds and rolled oats;

put the soaked dates and apricots in a food processor and blend them until you get a smooth, creamy paste. In case it's hard to obtain a smooth texture, while blending add gradually few tablespoons of hot water until you get the desired texture;

add the blended date and apricot paste to the dry ingredients and mix everything well together. Since the mixing might be a bit difficult, to spread the paste evenly it might be better to mix everything with hands. Mix until a solid mixture is formed;

line a tray (I used a tray that is 26x19x5cm) with parchment paper and transfer the mixture in it. Press it well, so that all ingredients stick well together;

(optional) if finely chopped hazelnuts are used, sprinkle them all over the surface of the mixture and press them lightly inside the mixture;

put the mixture in the fridge (not freezer!) for up to 3 hours. It is possible to keep it in fridge also for less than 3 hours, but then it might be more difficult to cut the mixture into bars;

when the waiting time is over take the mixture out of the fridge, cut it in bars (size and quantity is up to your choice) and, if using, cover them with melted dark chocolate. Store the bars for later in fridge.
* the size of my vegan protein bars is 3x4x10 cm, but in any case, the size and quantity of them is up to your choice