What to do if you live together with someone who loves coconut and chocolate? And goes absolutely crazy when these two flavors are mixed together? Easy! Give him/her a reason to smile by preparing these easy vegan chocolate – coconut cookies!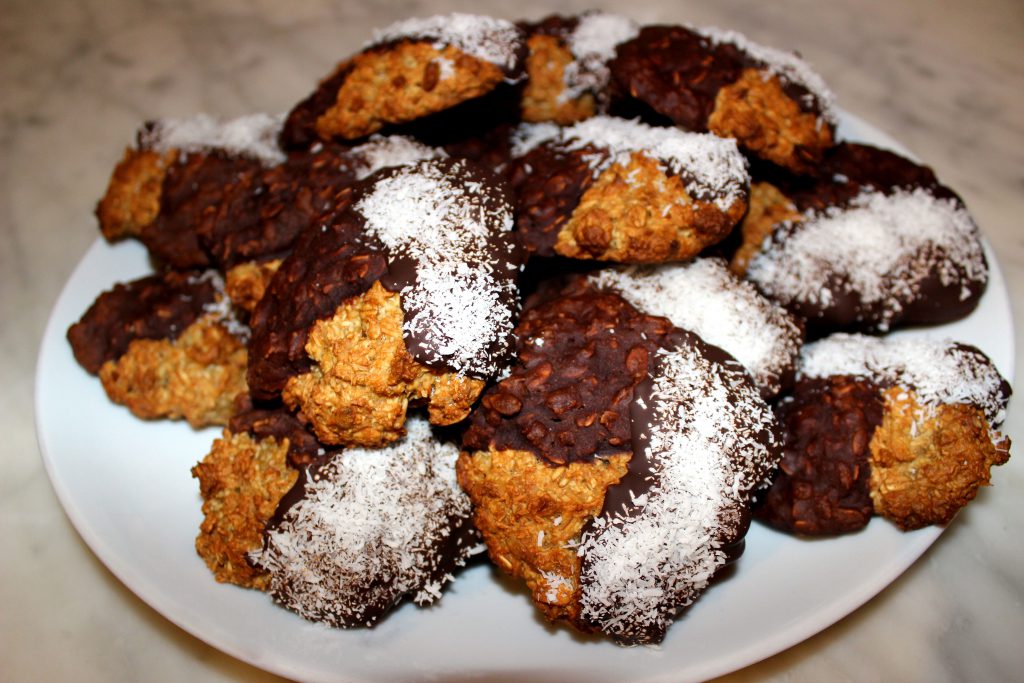 Specky is my little helper in kitchen by choosing the best ingredients for my recipes. While my partner instead is my big helper in… eating! Especially, if the ingredients include something that starts with "coco-" and ends with "-nut".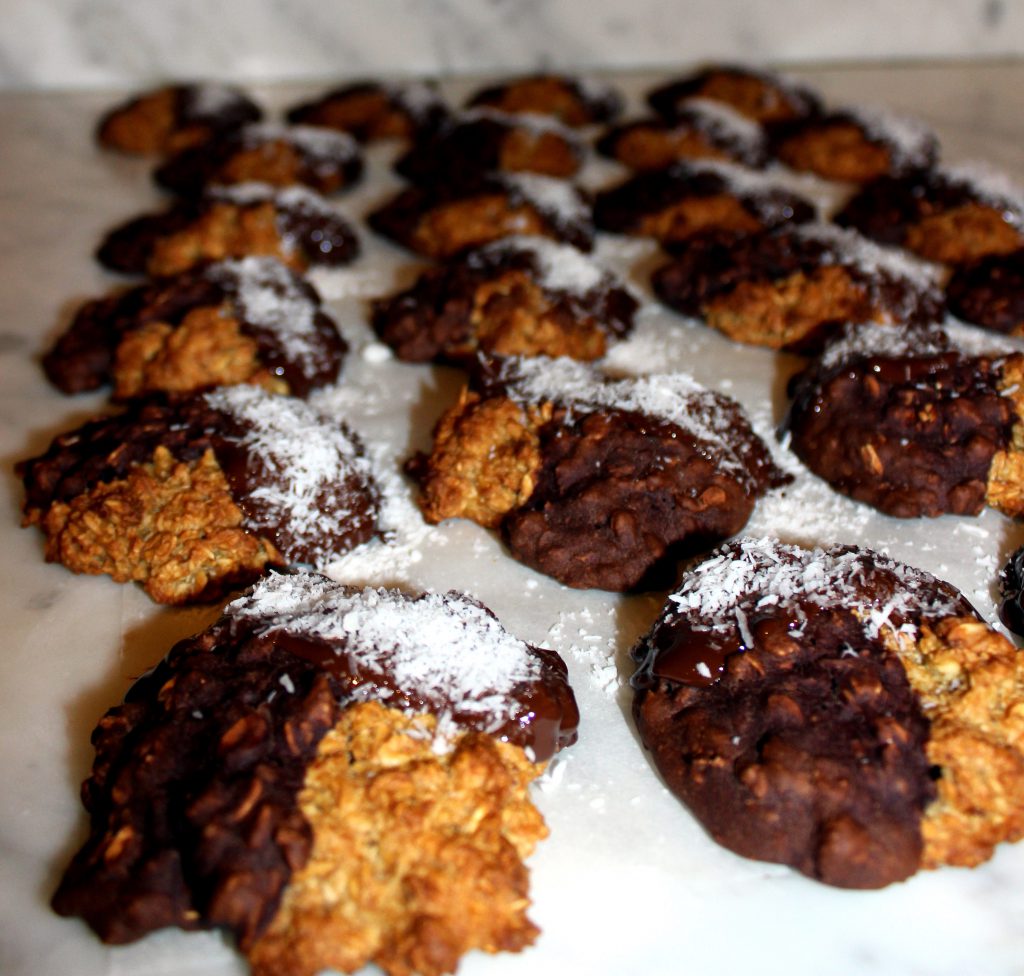 Before becoming vegan, from time to time I used to spoil my partner with chocolate-coconut treats that included milk products. But now that part of my life is over! So, it was the right moment to think of a veganized option for sweet snacks that include chocolate and coconut. But that's not all, Folks! I went even further. My goal was to create something that doesn't create a mess even consumed on the go. And something that can serve as a healthy snack to boost up your energy level.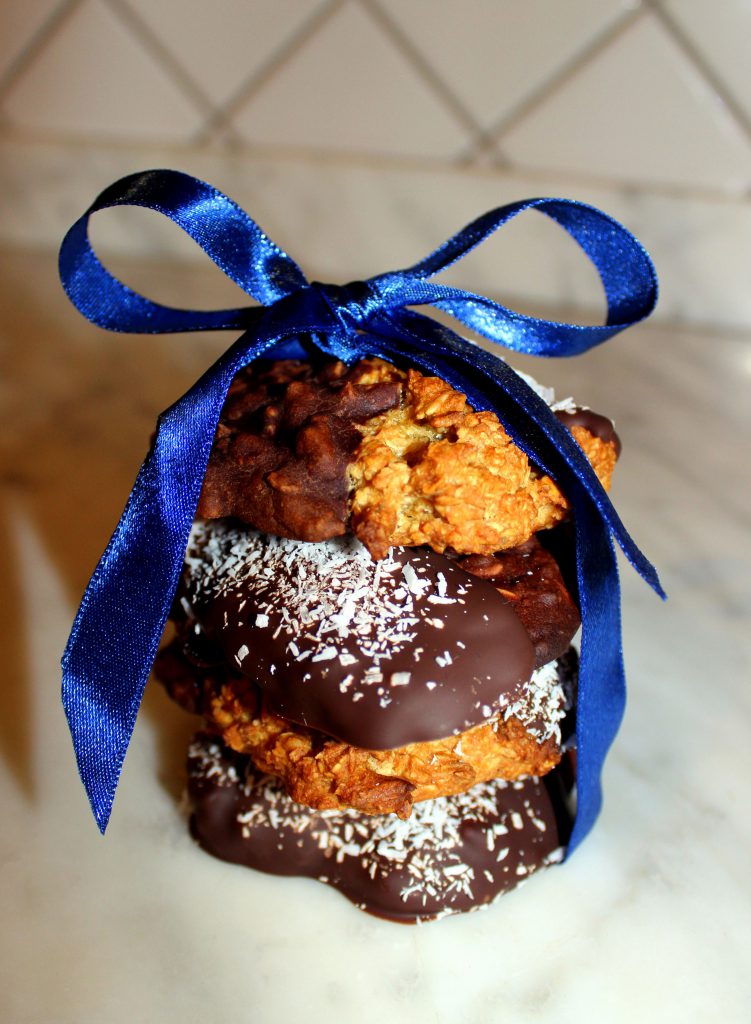 Of course, it's obvious that these cookies are a yummy snack for humans not bunnies. That's why Specky was not very interested to help me in the preparation process. First of all, because he knew that he wouldn't get to try them since they are made for his daddy. Second – while I was making the cookies, the dishwasher finished its cycle. And there is nothing more important for Specky than warming up his fluffy belly on dishwasher's door.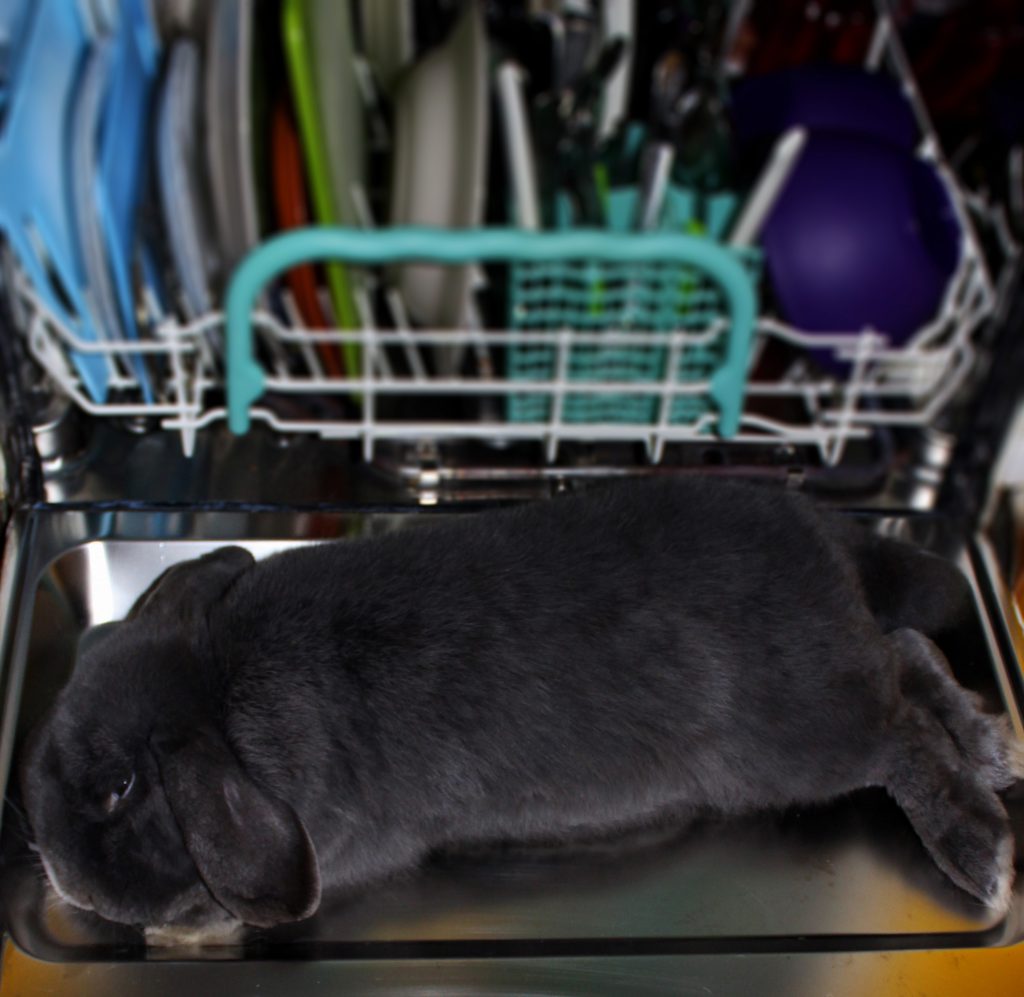 How to bake vegan chocolate – coconut cookies
But let's get back to the cookies! I know that there are many things that you can use as an egg substitute. But, to be honest, in my opinion the need for an egg in so many recipes is very overrated. I mean, when I make these or other vegan cookies, pancakes, waffles etc. I don't use flax seeds, apple puree or mashed banana as an egg substitute. For me everything simply sticks together in any case and the result is great. Besides that, for example, a banana as an egg substitute has a very particular flavor. In recipes, where you don't need banana flavor, it may suppress other flavors and damage the final result. So, to avoid using products that can substitute an egg, I simply make the dough not too liquid. And trust me – thicker dough does not equal cookies hard as stone!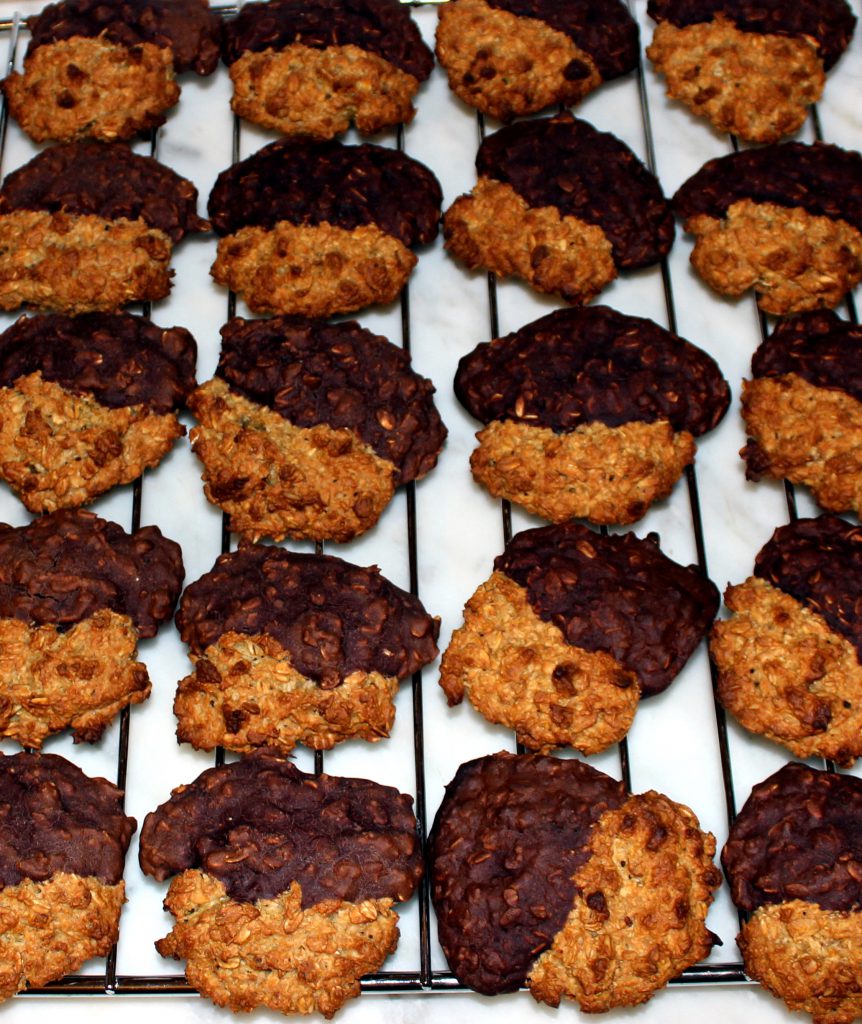 Apart from being tasty, these cookies also have a cute visual appearance. In this recipe I use two doughs that are not only visually diverse, but also have different flavors. The base of both doughs is the same. But the flavor is changed with shredded coconut in one case and cacao powder in the other. Besides that, instead of making the cookie dough just from plain flour, I add rolled oats. Oats contain many vitamins and minerals that are essential for our body. And in general, rolled oats keep you full for a longer time. Eat these cookies for breakfast and be sure that until lunch time your tummy won't make walrus sounds.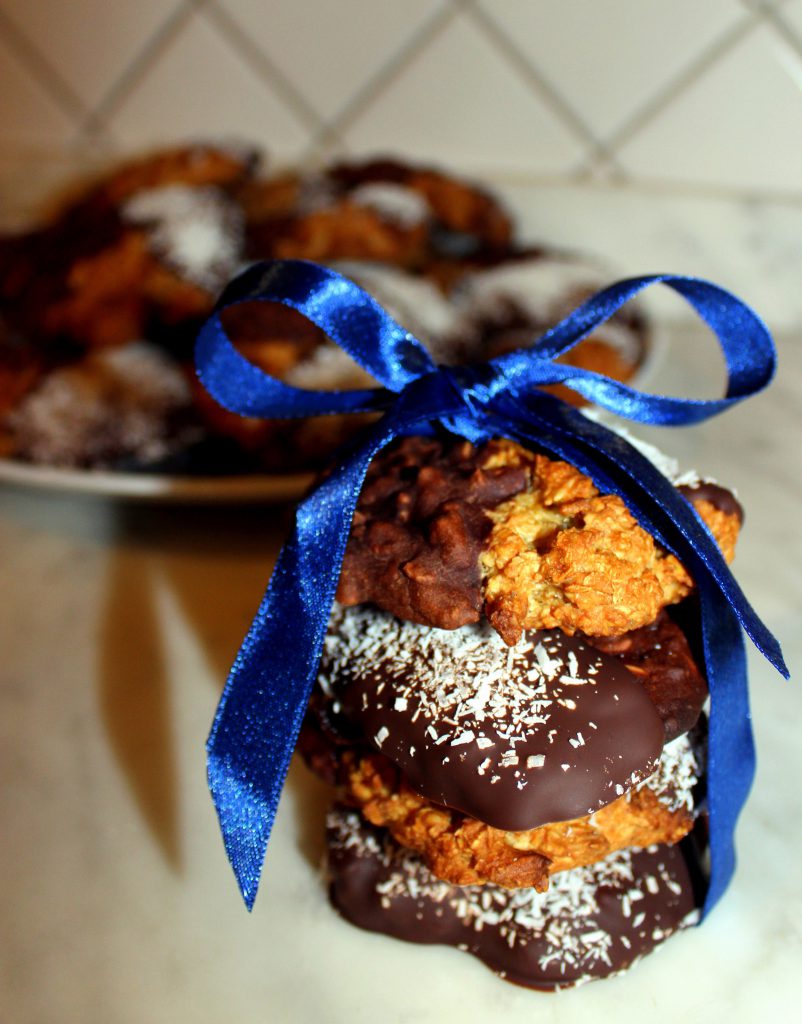 Why you will love these vegan chocolate – coconut cookies
If I still didn't convince you to make these cookies, let me share with you another important characteristic of them. They are pufffffy just like Specky! During the baking the outer part gets crunchy, but the inside remains soft and airy. If that's still not enough, follow my lead and cover every cookie with melted dark chocolate. Just make sure that it's vegan! And sprinkle some shredded coconut over it… yummm!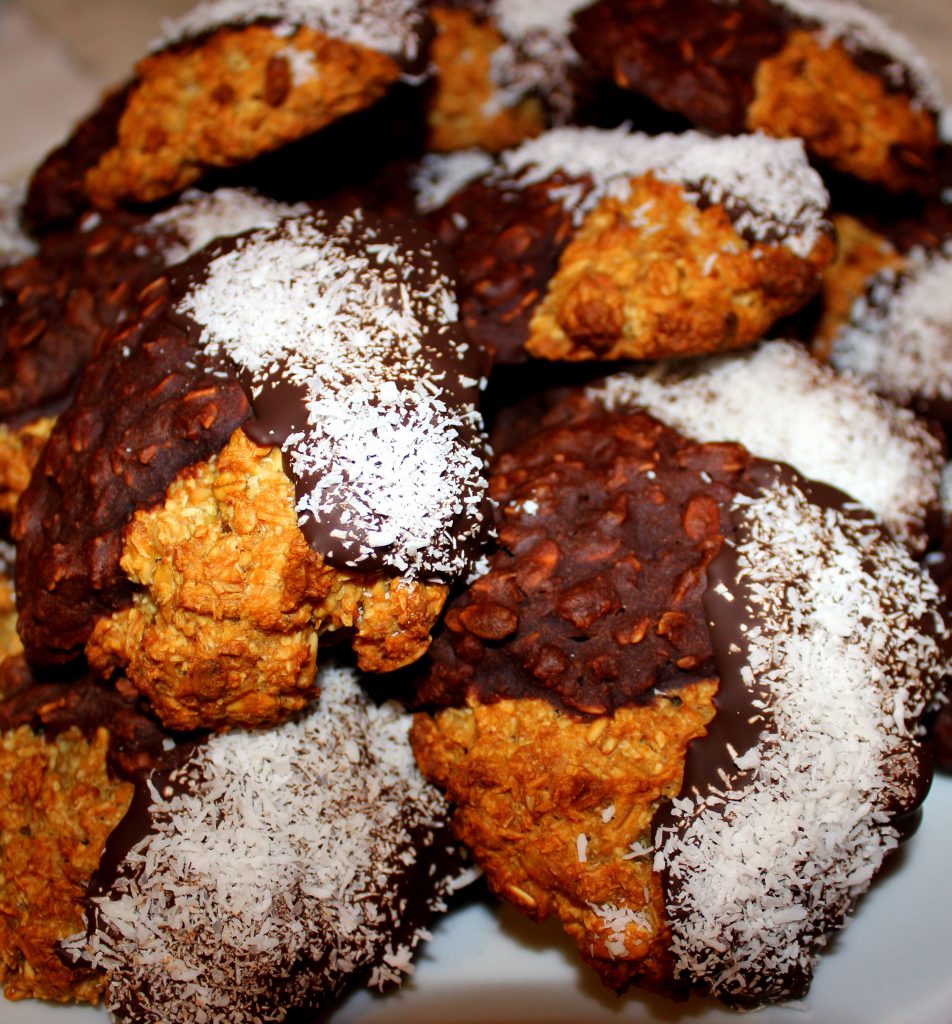 Now make a cup of hot chocolate, coffee or your favorite tea and treat yourself with these cookies that are:
vegan

semi-sweet

chocolaty

coconuty

crunchy and soft at the same time

nourishing

comforting

and simply yummy!
Let me know, if you try this recipe! Leave a comment or even more – make Specky happy! Snap a picture of your masterpiece and post it on Instagram or Facebook by tagging @bunnymommycooks. And feel free to let your animal family members join in the picture!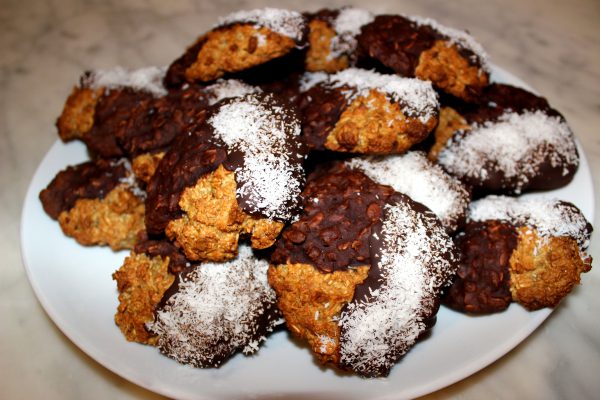 400

g

of rolled oats

225

g

of all-purpose flour

90

g

of sugar

450

ml

of non-dairy milk

(I used soy, but you can also use any other)

30

g

of unsweetened cacao powder

100

g

of shredded coconut + extra 20 g for decoration

1

tablespoon

of baking soda

pinch

of salt

200

g

of dark vegan chocolate
400

g

of rolled oats

225

g

of all-purpose flour

90

g

of sugar

450

ml

of non-dairy milk

(I used soy, but you can also use any other)

30

g

of unsweetened cacao powder

100

g

of shredded coconut + extra 20 g for decoration

1

tablespoon

of baking soda

pinch

of salt

200

g

of dark vegan chocolate
mix together rolled oats, flour, sugar, salt and baking soda;

add gradually non-dairy milk to the mixture of dry ingredients until the cookie dough is sticky, well mixed and not too liquid, i.e., you should not be able to pour the dough (if it turns out too liquid, add some extra flour and/or rolled oats);

split the cookie dough in half in two separate bowls. To one of the doughs add shredded coconut, and to the other one add cocoa powder (if the dough starts to be too dry, add extra non-dairy milk to make it more sticky and elastic);

if necessary add extra sugar according to your taste – since the cocoa powder is bitter, most probably you will want to add extra sugar to the dark dough;

line a baking tray with parchment paper and with a help of two spoons for each dough make cookies by taking one part of the dark dough and one part of the light dough and putting them side by side so that they touch and create a more or less round-formed cookie. Continue until both doughs are finished;

bake the cookies at 180°C/350°F in a preheated oven for 20 minutes. The cookies should be lightly soft when you take them out of the oven – they will harden up once they cool down;

put cookies on a cooling rack to cool – this step is very important otherwise the chocolate that you will use to cover the cookies will not harden;

when the cookies are cooled, melt the dark chocolate either in a microwave (use low power to avoid burning the chocolate) or in a water bath (bain marie);

do the decoration part – first cover half of every cookie with the melted chocolate, so that half of each cookie color is still visible, and only after finishing to cover all the cookies with chocolate start over again by sprinkling some shredded coconut over the chocolate part. If you will do it at the same time, i.e., cover with chocolate and immediately sprinkle the coconut, the shredded coconut won't be visible on the cookies, because it will sink inside the melted chocolate instead of sticking on it;

let the cookies cool once more in a room temperature until the chocolate gets hard. Or if you are too impatient, put them in the fridge for 10 – 15 minutes, so that the chocolate hardens quicker.
* diameter – around 7 cm/2.75"