Who said that you cannot add some fruit to your vegetable salad? And who said that you cannot serve the salad inside a fruit? Well, even if you think that it's impossible, this recipe for refreshing quinoa salad with pineapple and ginger proves you wrong. It's not impossible. Maybe it's just a bit strange… but in any case, the flavor of it is so good that you'll forget that this delicious vegan salad was served in a pineapple!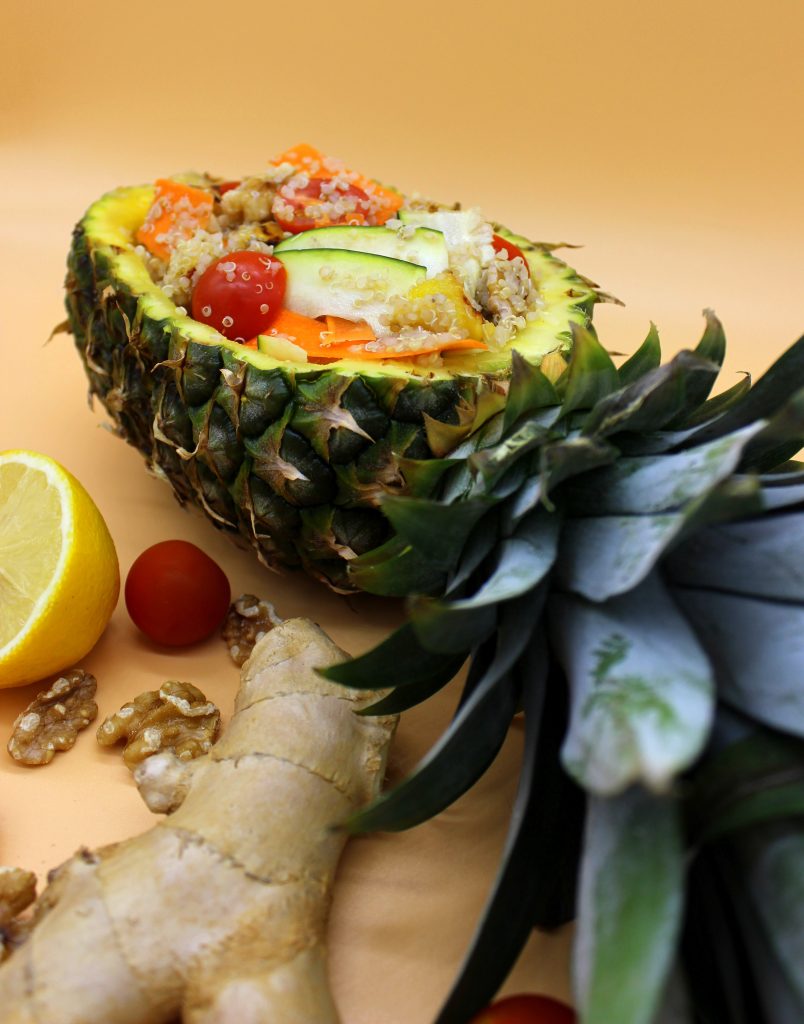 In this recipe the pineapple is not just a "bowl" in which to serve the salad. Actually, you can even serve this refreshing quinoa salad with pineapple and ginger in a regular bowl, if you want. Serving it in carved pineapple is not obligatory. The salad in any case will have some notes of pineapple flavor, because it contains grilled pineapple pieces. But to make it even more exotic I added some fresh ginger – not too much to avoid that the ginger flavor overtakes other flavors. But enough to make this vegan quinoa salad even more refreshing.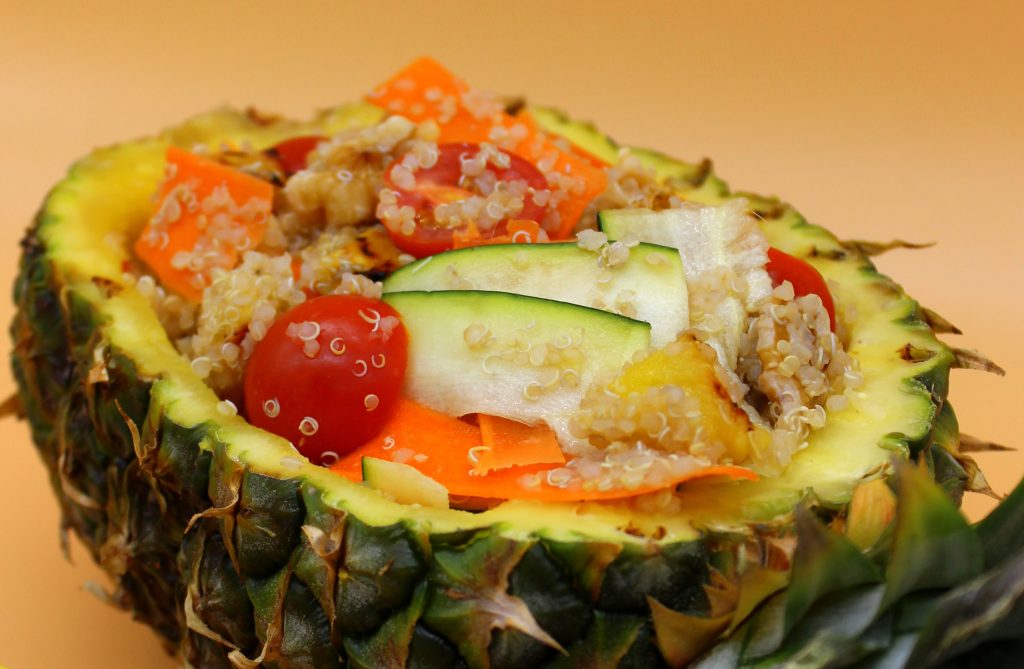 Nutritional value of refreshing quinoa salad with pineapple and ginger
Quinoa is high in protein and dietary fiber. It's perfect for people who want to eat healthy, control their weight and who are sensitive to gluten. That's right! – Quinoa is gluten-free. Besides that, it contains different minerals, like manganese, magnesium, phosphorus and copper. And some B group vitamins – B9, B1, B2. Pineapple instead is very rich in vitamin C, so its consumption can help you boost your immune system. Just like quinoa, also pineapple contains B group vitamins – in this case B6 and B1. And also such minerals as manganese and copper. Between the three ingredients, probably ginger is the winner. It contains many vitamins and minerals and is considered to be one of the world's healthiest food products. It is rich in vitamins B3 and B6 and such minerals as manganese, iron, selenium and magnesium.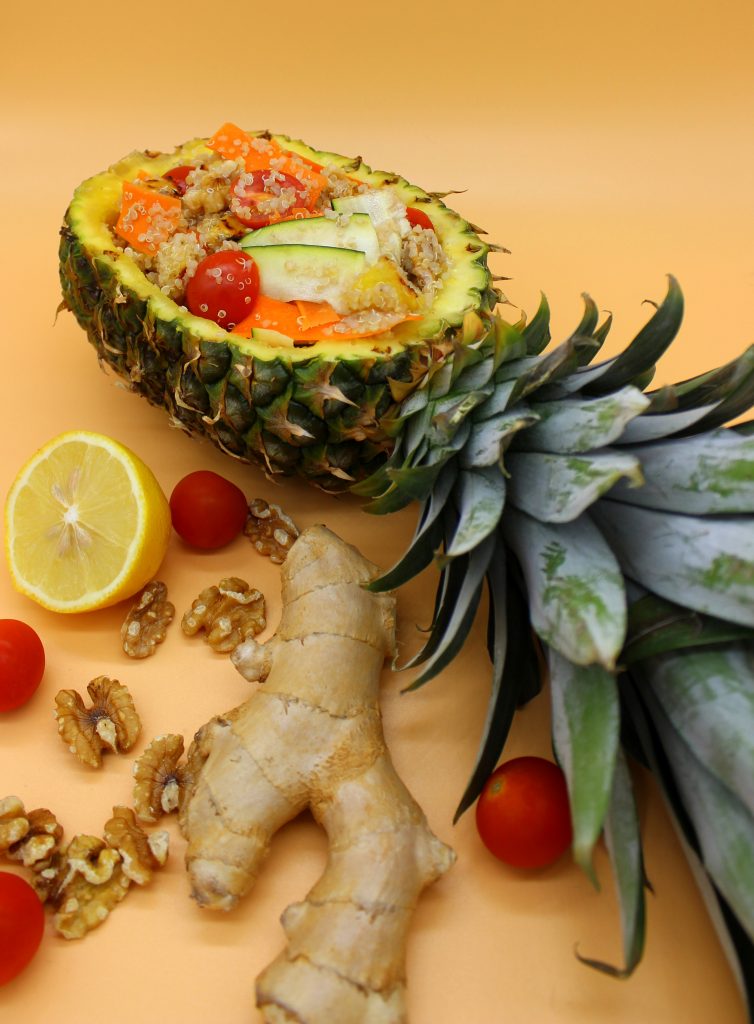 Also the other ingredients of this refreshing quinoa salad with pineapple and ginger are good for our health. For example, despite its very mild flavor raw zucchini contains decent amount of vitamin C and is a great product for people who control their weight. It doesn't contain fat and is high in fiber. Carrots instead are rich in vitamin A, which is great for our eyesight, while walnuts contain a decent amount of omega-3 fatty acids. Cherry tomatoes in this group try to compete with carrots and zucchini, because they are a great source of both vitamin C and A. On top of it all there's an extra dose of vitamin C given by the lemon juice.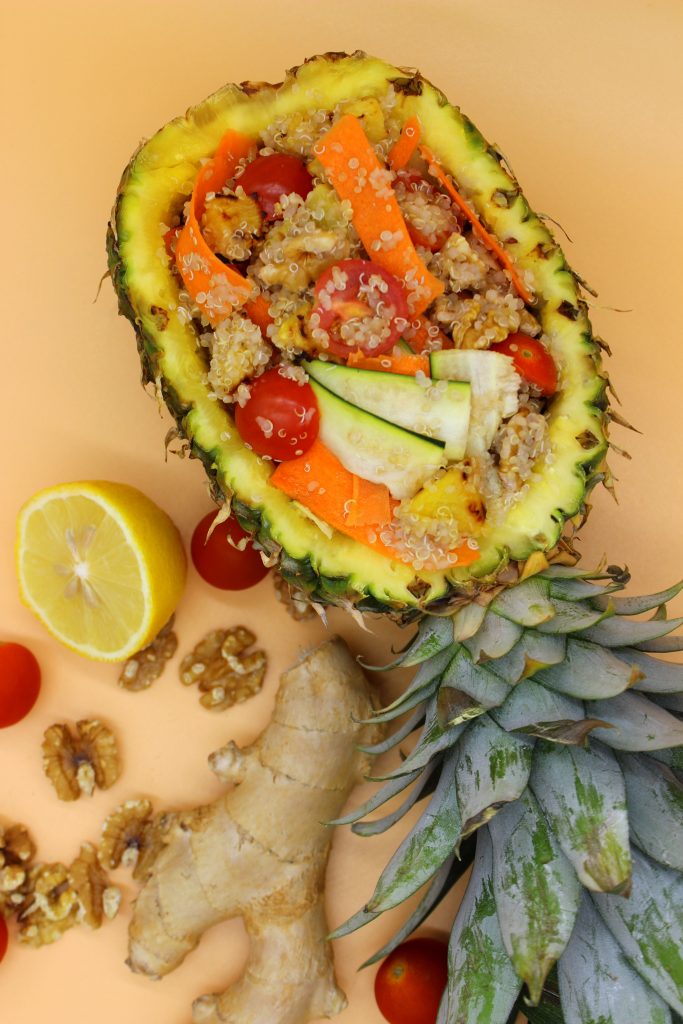 How to serve refreshing quinoa salad
As I already mentioned, it's up to you to decide if you'll serve the salad in carved pineapple or not. Just be aware that if you make this salad for more than 2 people and your pineapple is quite small, you won't be able to put all the salad in it. But at the same time, it's really worth to at least try to serve a part of it in the pineapple. Why? Well, first, the visual appearance will definitely surprise anyone who sees it. And second – if you fill a carved pineapple half with this salad and put it in the fridge for later, the salad will absorb some pineapple juice and the flavor will be even more refreshing.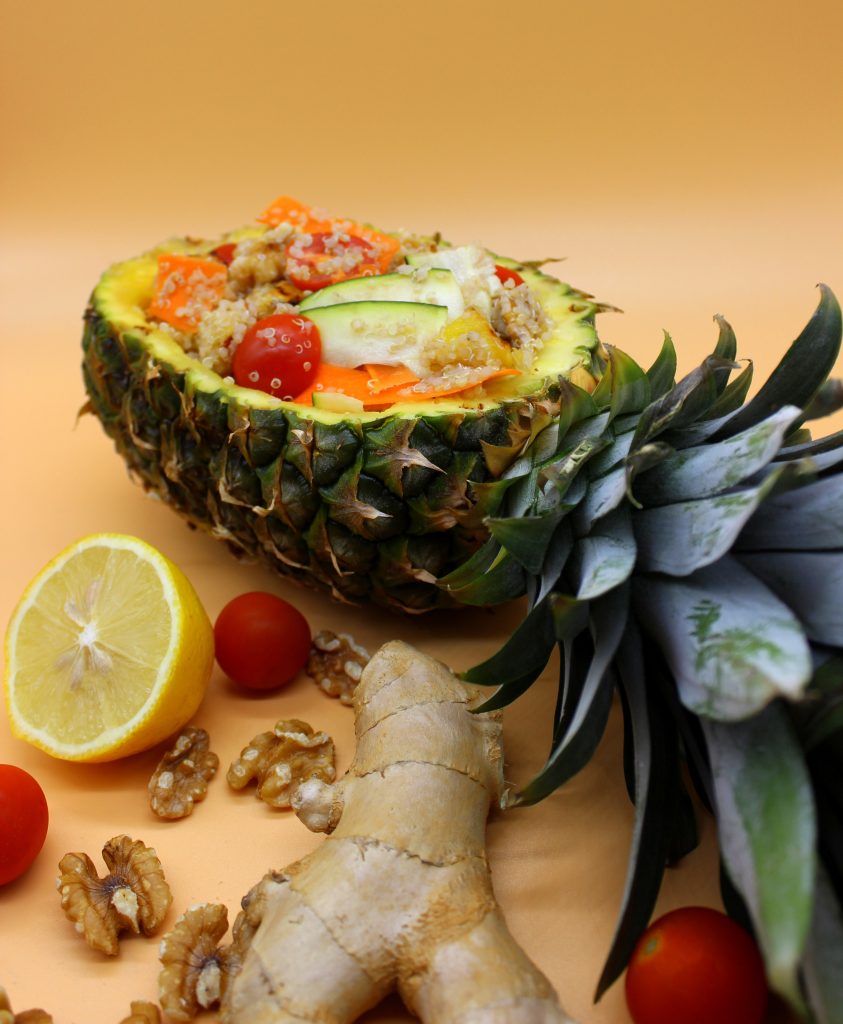 You might think that this salad is a bit heavy since it contains quinoa, but actually it's very light. So, don't be afraid to use it as a side dish for some delicious vegan meatballs or crispy garlic Hasselback potatoes. And if you will like this refreshing quinoa salad with pineapple and ginger, you will definitely appreciate my flavorful farro salad. When it comes about Specky, he was not that appreciative of this vegan quinoa salad. Probably because its ingredients are not suitable for him. Except one – carrot! Which this time he got also with the delicious greens!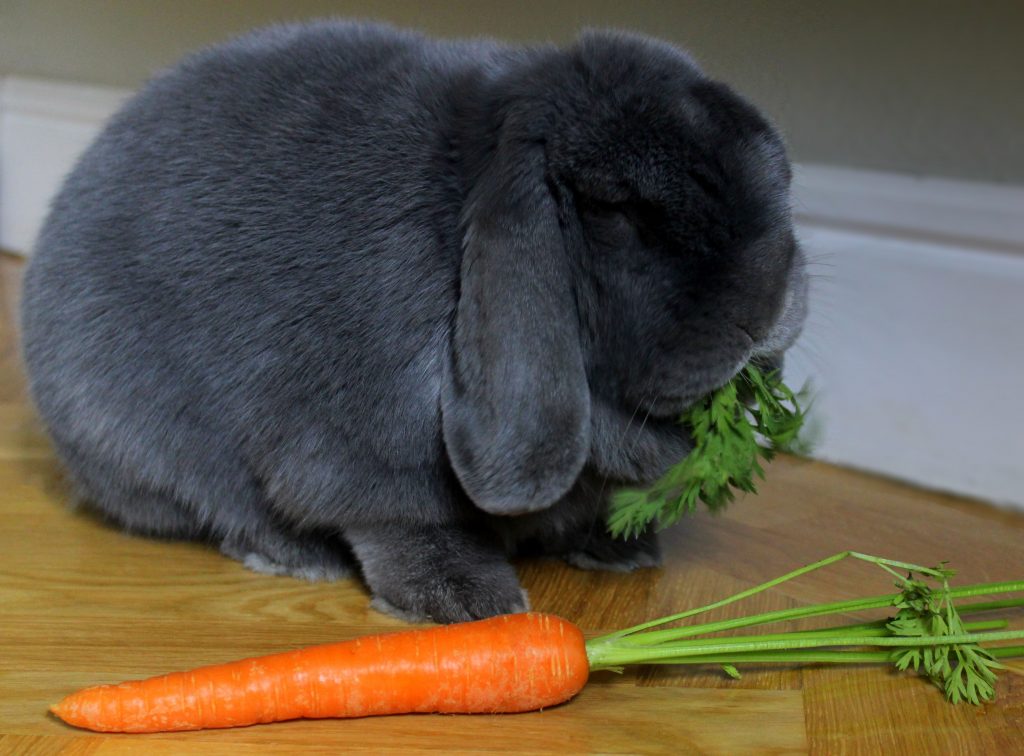 If you're still in doubt whether to try this recipe or not, I say – go for it! I know that ingredients like ginger and pineapple may be a bit confusing for a salad, but trust me – everything together tastes great! This quinoa salad really is:
refreshing

healthy
vegan
gluten-free
easy to make
easy to digest
juicy
slightly exotic
unusual
nutritious
flavorful
low-fat
and simply yummy!
Let me know, if you try this recipe! Leave a comment or even more – make Specky happy! Snap a picture of your masterpiece and post it on Instagram or Facebook by tagging @bunnymommycooks. And feel free to let your animal family members join in the picture!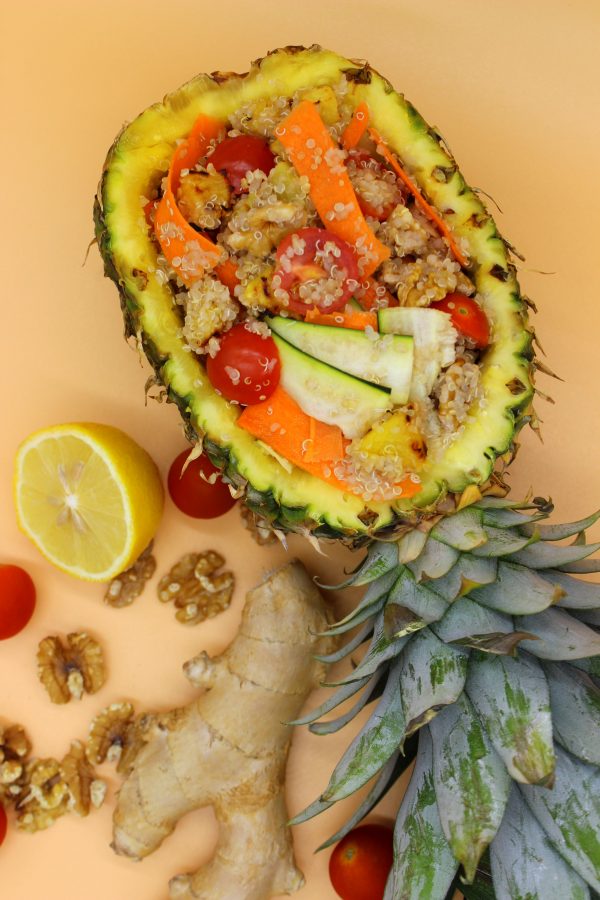 80

g

of quinoa

100

g

of fresh pineapple

1

carrot

(~100 g)

100

g

of zucchini

8

cherry tomatoes

50

g

of walnuts

10

g

of fresh ginger

juice from half lemon

pinch of salt
80

g

of quinoa

100

g

of fresh pineapple

1

carrot

(~100 g)

100

g

of zucchini

8

cherry tomatoes

50

g

of walnuts

10

g

of fresh ginger

juice from half lemon

pinch of salt
(Information: if you don't want to grill the pineapple in the oven, feel free to use it raw – the flavor will be slightly more powerful and less sweet.) Heat up the oven to 200°C/390°F and meanwhile put quinoa to boil according to the instructions given on the package. Cut the pineapple in small cubes and put them on a baking tray that is lined with parchment paper. Grill the pineapple pieces in the oven for 10 minutes or until the pineapple pieces start to get brown edges;

while quinoa is boiling and pineapple is cooking, by using the peeler knife cut the carrot and zucchini in very thin fingertip-wide strips. Cut cherry tomatoes in half and add to the carrot and zucchini;

grate the ginger and add it together with walnuts to the vegetables;

at this point quinoa and pineapple should be ready, so add it to the salad and mix everything together;

at the end sprinkle over some salt, add lemon juice and mix it once again. Serve warm or cold and if desired – in a carved pineapple half.