No matter if you work, study or simply enjoy life without doing anything, I'm sure that there are days when you are in lack of energy. Either you didn't sleep well, or you got exhausted from physical activities, or maybe you simply feel tired for no reason. We all know that sensation! But how to regain the energy? Well, the best way, in my opinion, is to do it with some healthy snacks. With something that will nourish your body but won't create the sensation of heaviness in your stomach. Like these healthy vegan carrot energy balls!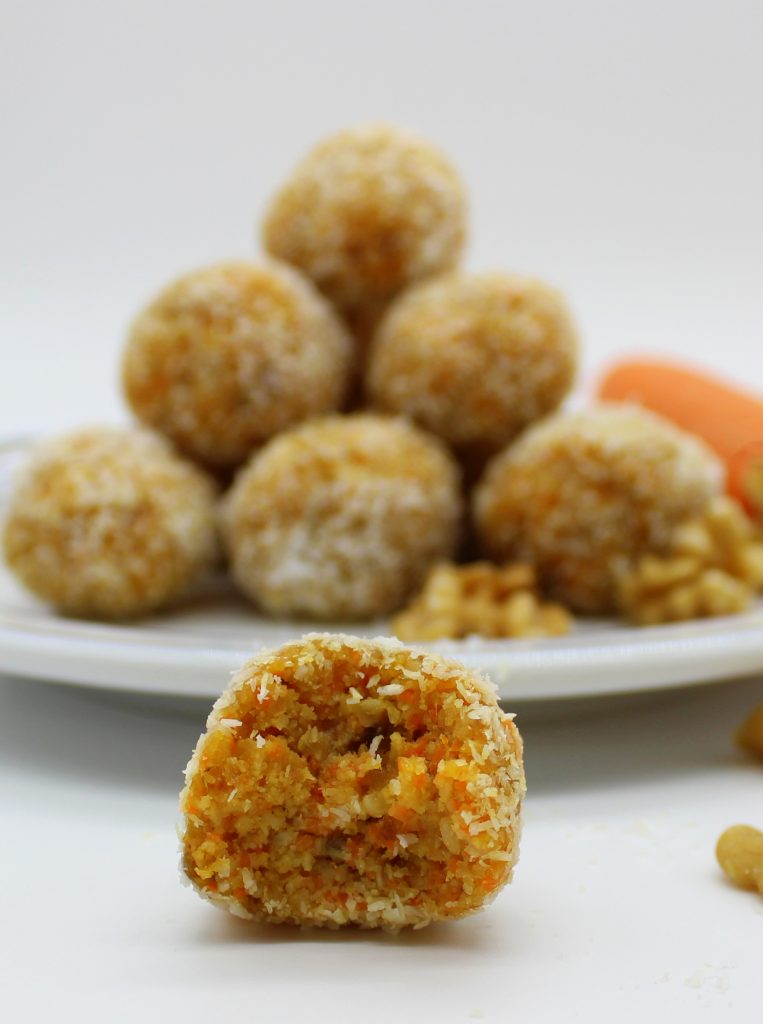 These carrot balls contain only 5 ingredients and they are very easy to make. You'll only need to blend together carrots, walnuts, coconut, dates and peanut butter, form the mixture into balls and for extra coconut flavor roll each ball in shredded coconut. And that's it! You can choose on your own how big to make the balls. Since the flavor is very rich, I prefer to make my healthy vegan carrot energy balls small to medium size. In such a way from small amount of ingredients I get 20 energy balls that, stored in fridge, can last for several days.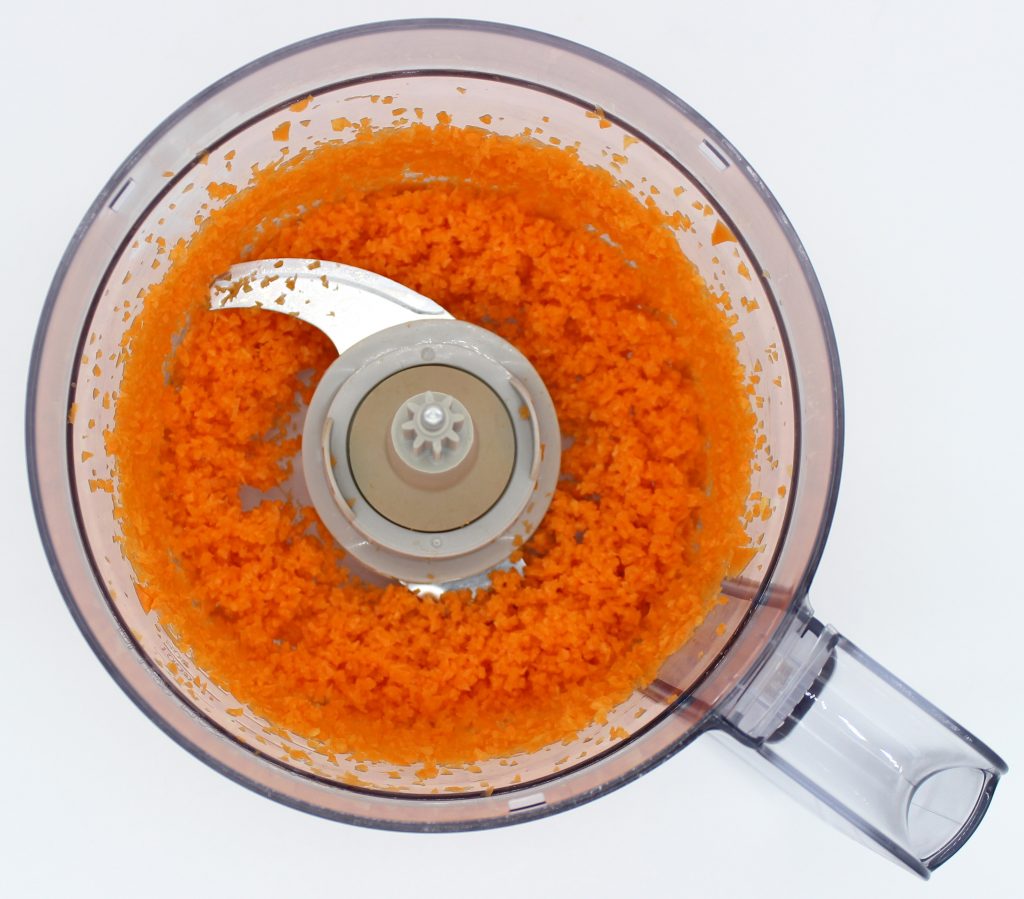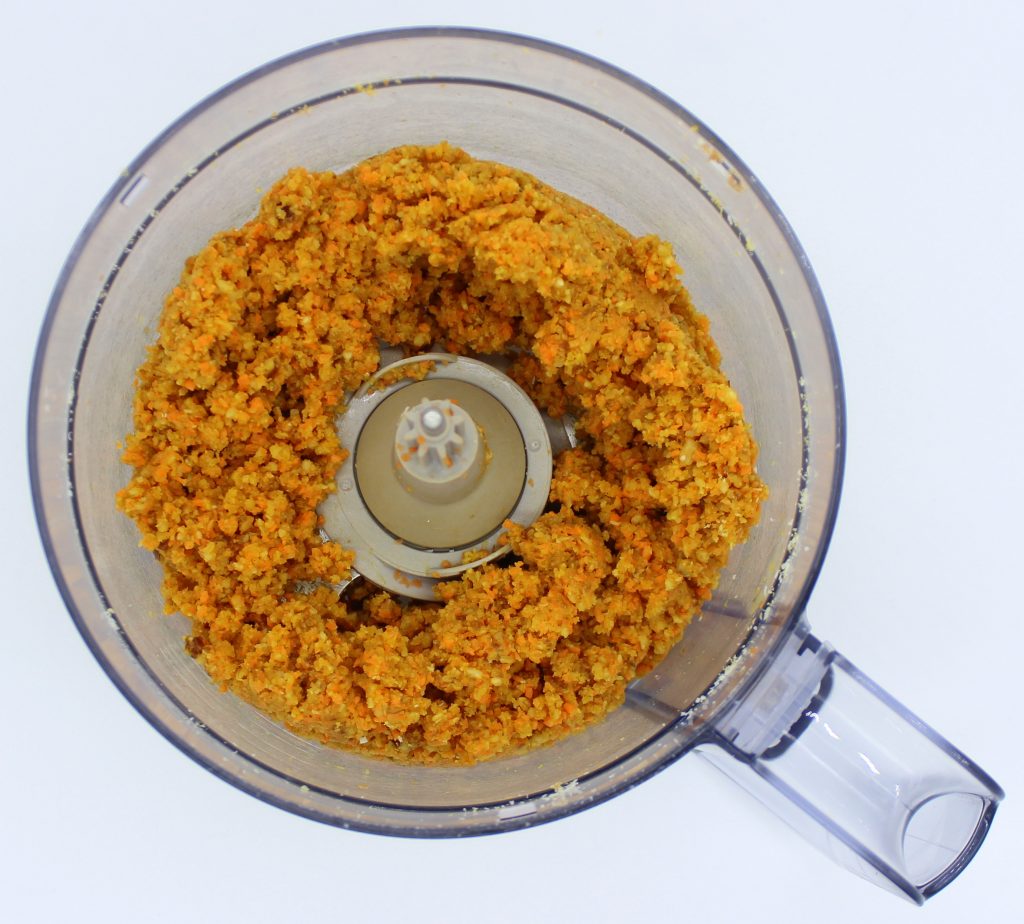 Actually, the reason why I made these carrot balls is very special – it was for Specky's fifth birthday! He loves carrots, so I knew that I needed to make something that includes them. Of course, Specky cannot eat these carrot energy balls. That's why for his birthday he got some pieces of fresh carrots and as a dessert his favorite fruit – banana! It doesn't take much to make my fluffy bunny boy happy!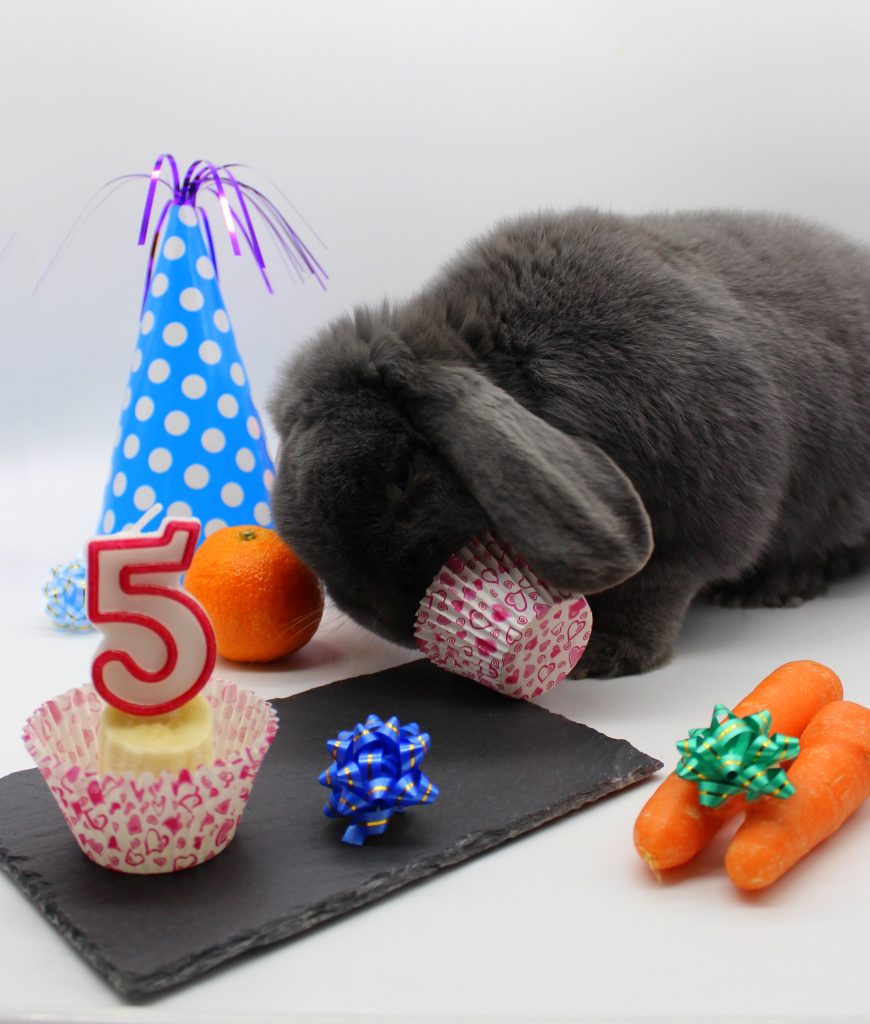 Nutritional value of healthy vegan carrot energy balls
Probably already from the name you understand that these tiny carrot balls can boost up your energy level. That's because all five ingredients contain good nutrients for our body. For example, carrots contain huge amount of vitamin A and are rich in vitamins K and C, and potassium. Walnuts instead are a great source of protein and they contain many different minerals and vitamins. For example, walnuts contain good amount of vitamins B6, B9, B1 and great amount of such minerals as copper, magnesium, phosphorus, zinc and iron. But above all walnuts are very rich in manganese. Also peanut butter contains good amount of protein. And it's also very rich in vitamins E, B3, B6, B9 and minerals – manganese, magnesium, phosphorus, copper, zinc, potassium and iron.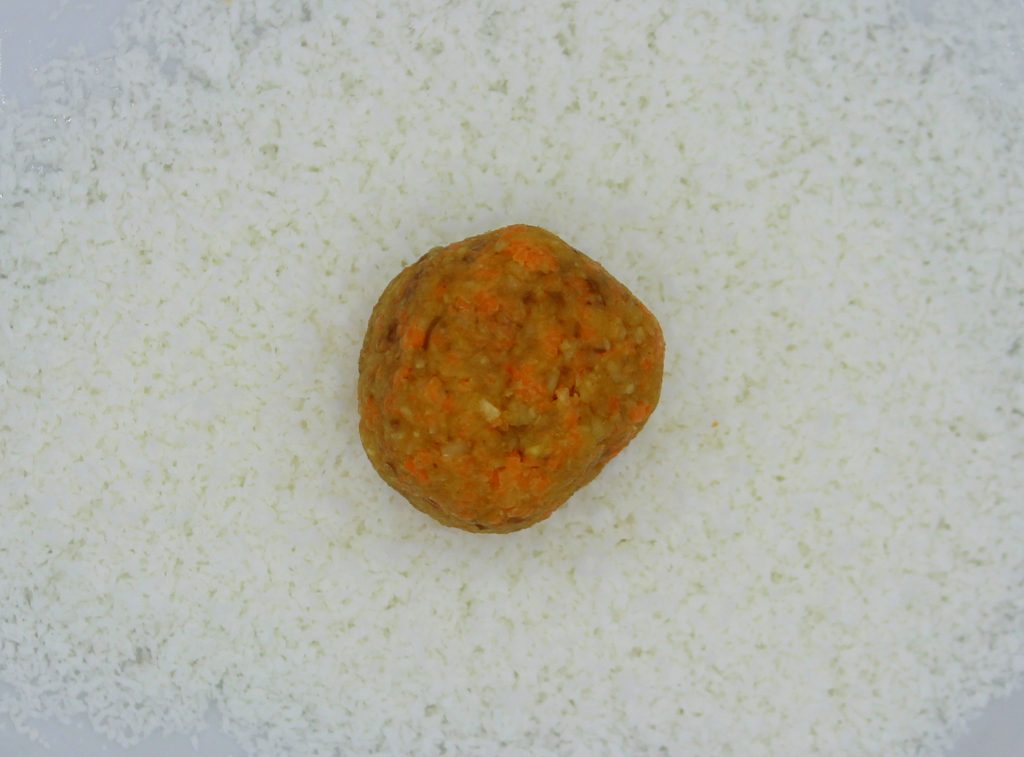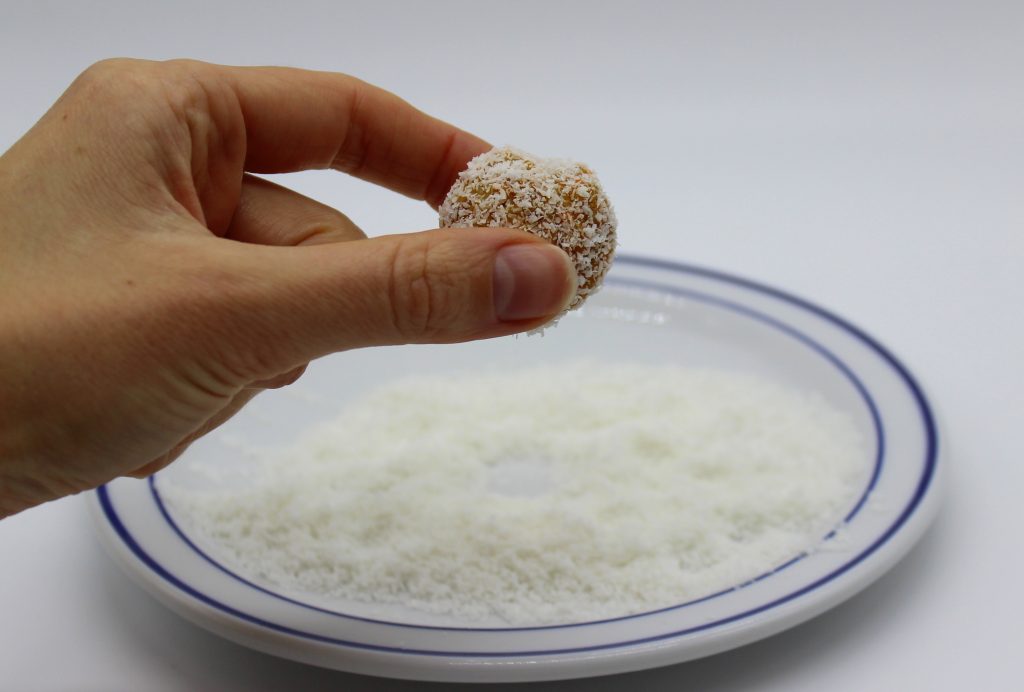 Also shredded coconut gives us some small dose of protein, but apart from that it contains big amount of manganese and decent amount of selenium and copper. Even though shredded coconut is not very rich in vitamins, it still contains good amount of vitamin B6. The sweet ingredient in this recipe – dates – contain potassium, manganese, magnesium and copper and decent amount of vitamins B6 and B5. So, basically all the necessary ingredients can nourish our body with essential vitamins, minerals and protein. And as we all know, the B group vitamins are the ones that give us energy, so that's why these tiny sweets are called energy balls!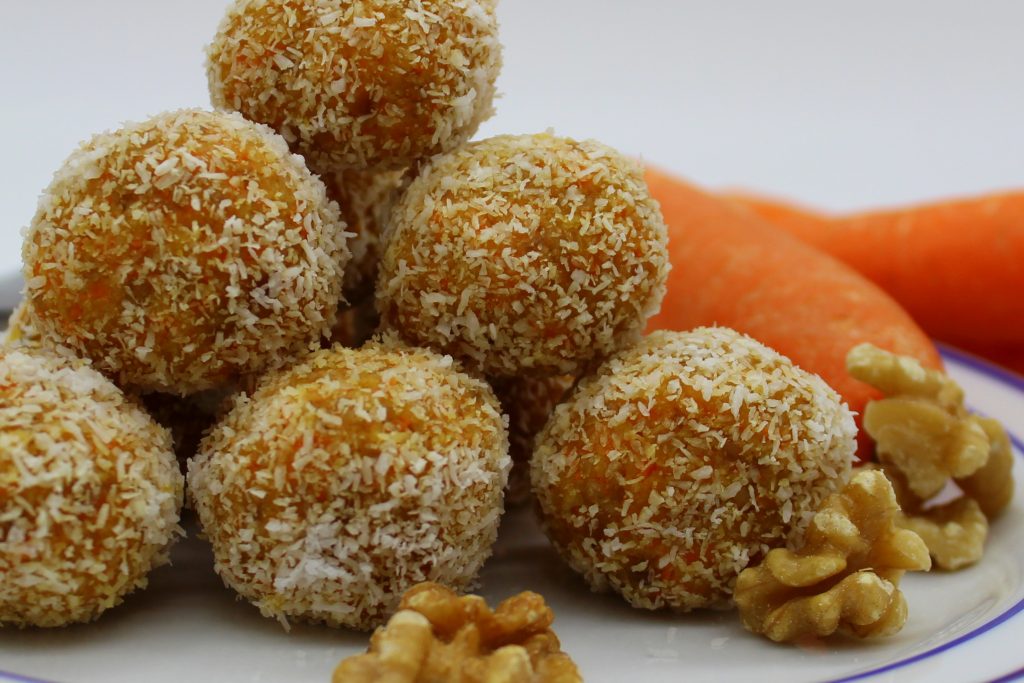 If you want something that is even richer in protein, I advise you to try my vegan protein bars! They will do the same thing as these carrot balls – boost your energy in a healthy and delicious way! But now – wait no longer and prepare these carrot energy balls that are:
vegan

healthy
nutritious
easy to make
wholesome
rich in minerals
rich in vitamins
and simply yummy!
Let me know, if you try this recipe! Leave a comment or even more – make Specky happy! Snap a picture of your masterpiece and post it on Instagram or Facebook by tagging @bunnymommycooks. And feel free to let your animal family members join in the picture!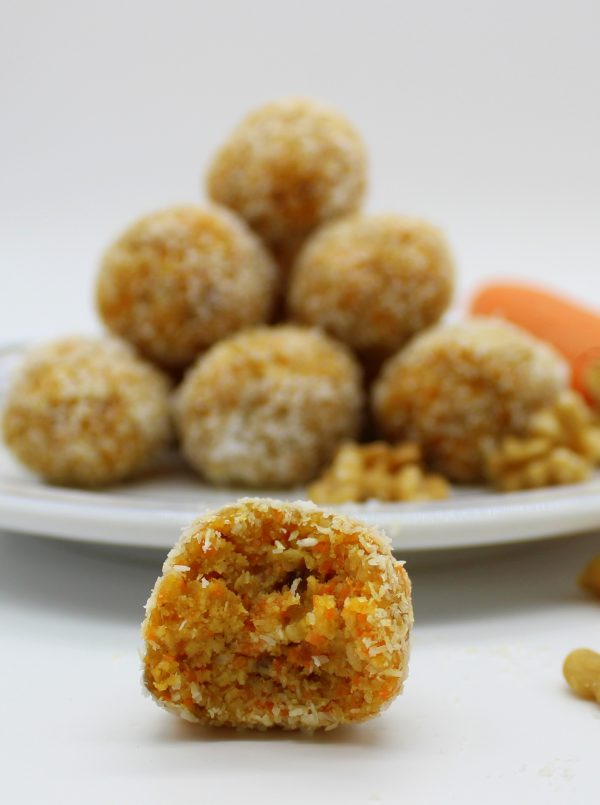 | | |
| --- | --- |
| Servings | energy balls* (check notes) |
2

medium size carrots

(~145 g)

65

g

of walnuts without shell

70

g

of shredded coconut

(+ extra 20 g for covering the balls)

40

g

of soft dates

(~ 4 – 5 pieces)

3

tablespoons

of peanut butter
| | |
| --- | --- |
| Servings | energy balls* (check notes) |

2

medium size carrots

(~145 g)

65

g

of walnuts without shell

70

g

of shredded coconut

(+ extra 20 g for covering the balls)

40

g

of soft dates

(~ 4 – 5 pieces)

3

tablespoons

of peanut butter
peel the carrots, cut them in three parts and put in food processor. Blend until the carrots are turned into tiny pieces, then take out from the food processor and set aside;

put in the food processor walnuts, shredded coconut, dates and peanut butter. Blend everything (periodically scrape down the sides, if necessary) until a homogenous thick mixture is obtained;

add the carrot pieces to the mixture and by pulsing a few times incorporate the carrot pieces in the mixture;

scoop out small part of the mixture (about 1 teaspoon), place it in your palm and roll it into a ball with your hands. Then roll the ball in shredded coconut to cover all the sides of it;

continue until all the mixture is over. Place and store the energy balls in fridge.
* the number of energy balls depends on how big or small you choose to make them