Valentine's Day… People always have different opinions about it. Some people hate it, some others love it. I say – stop thinking if it's correct or not to celebrate it! And simply use the Valentine's Day as a reason to prepare this vegan no-bake chocolate salami! Because even if you don't have any significant other to love, there's always someone who needs to be loved dearly. And that would be you!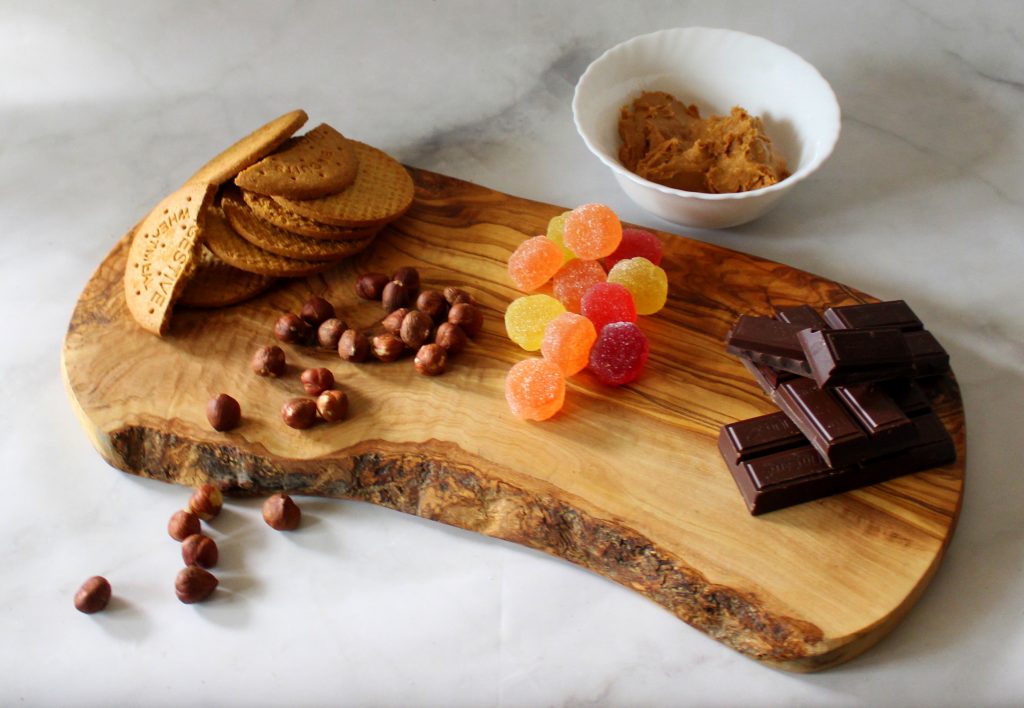 This dessert is something that my mother prepared for me and my brother quite often when we were small. I still remember my dissatisfaction with the fact that I needed to wait until the chocolate salami solidifies in fridge. Oh well, I guess, I was born to be impatient… But sometimes the impatience is understandable. And trust me – this is one of those cases! This vegan no-bake chocolate salami is so delicious that once it's in your mouth, you'll forget all the unpleasant waiting. My partner is a real proof of that. While I was taking pictures of this dessert, I asked for his help. But the only thing I constantly heard from him was "Can I eat it now?" "What about now?" "Are you done? Can I eat it?". But it's fine, I'm already familiar with the fact that he has a big sweet tooth.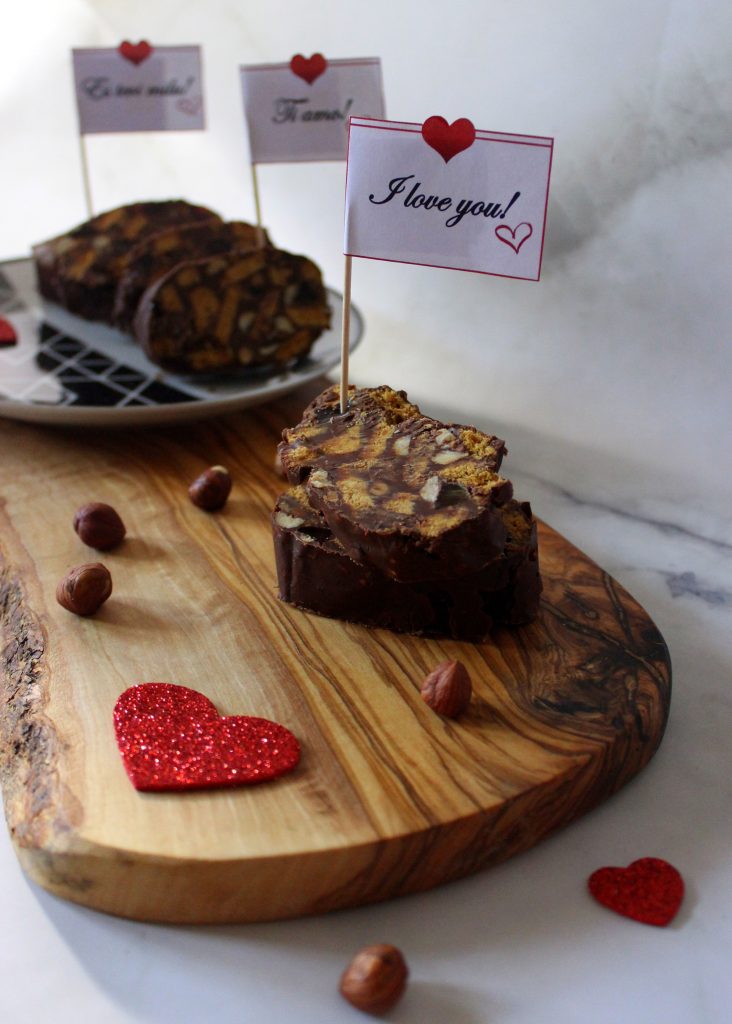 How to prepare the vegan no-bake chocolate salami
This dessert requires only 5 ingredients that can be easily found in any supermarket. And it will take you less than 30 minutes to prepare it. Then, of course, comes the waiting time until the chocolate salami gets solid. But for your pleasure I can reveal that it's not necessary to keep the chocolate salami overnight in the fridge. You can enjoy its flavor already after 4 hours.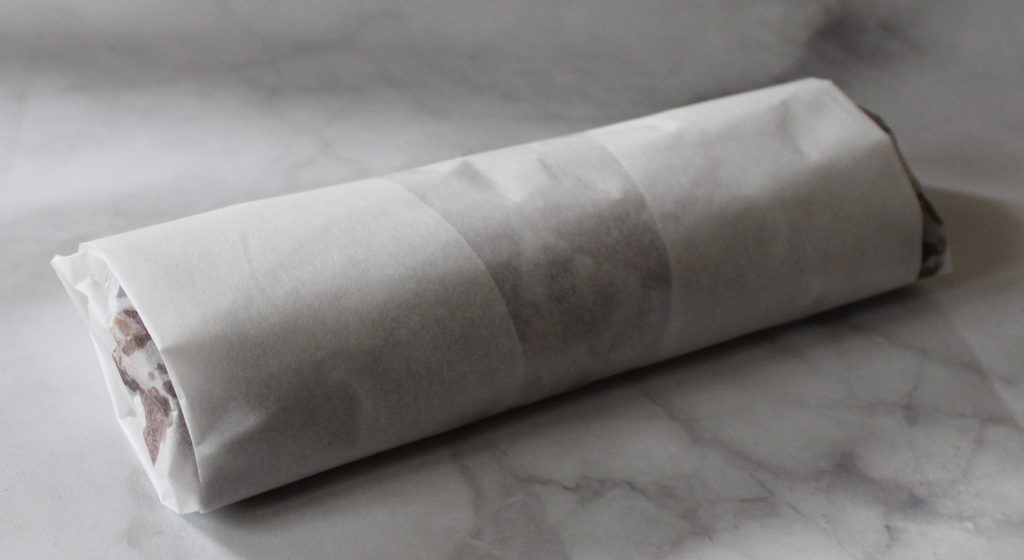 As far as I know, usually people make the chocolate salami without marmalade candies. But my mother always made it with them, so I decided to maintain my childhood's flavor also in my recipe. The flavor and texture of the added marmalade candies are perfect for this recipe. They create equilibrium between the bitterness of the dark chocolate and crunchiness of the digestive biscuits. As well as they harmonize the flavor of peanut butter and hazelnuts, which in general are products that contain fat. The choice of marmalade candies' flavor is up to you. I used marmalade candies that were made of cherry, strawberry, orange and lemon juice. But feel free to use the one that you prefer. Just make sure that it doesn't contain animal products, for example, gelatin. Because why should you add to your dessert something that comes from boiled animal skin, tendons, ligaments and bones, right?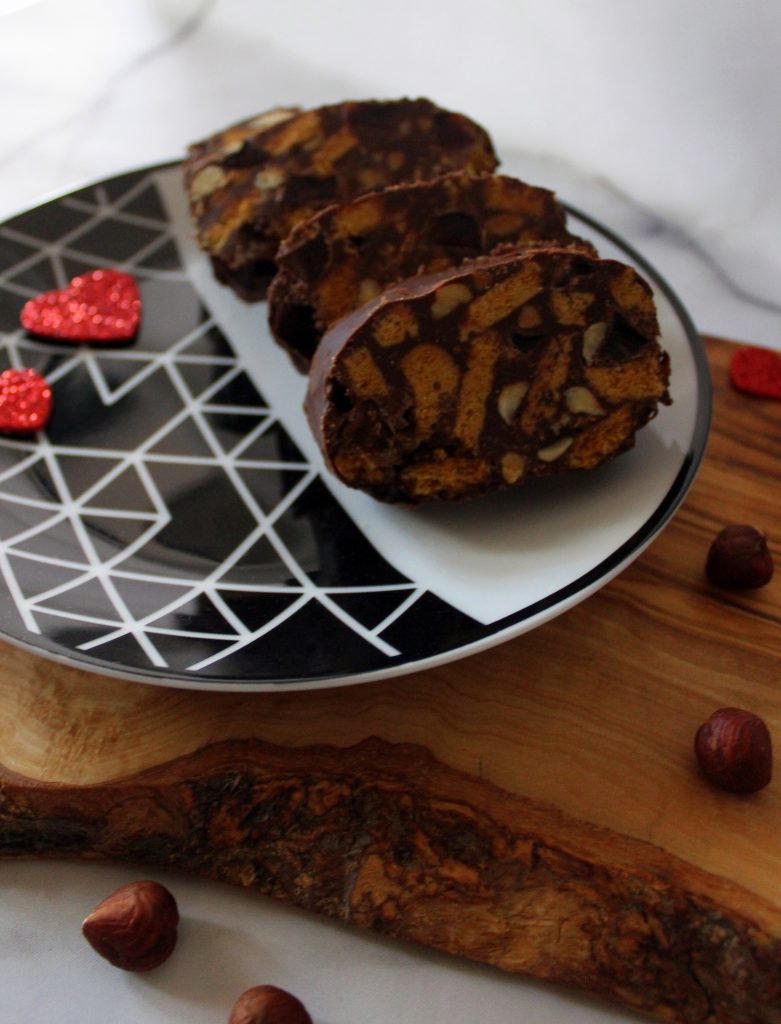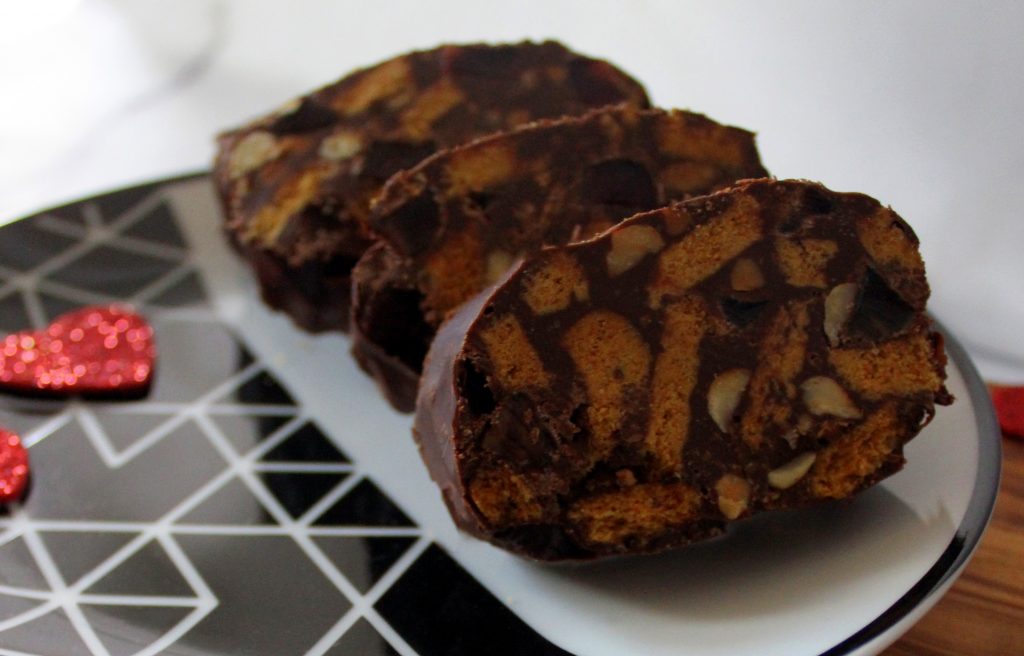 How long the vegan no-bake chocolate salami can be stored
The best part of this dessert is that it's very easy to be made. So that also people who are not familiar with desserts can easily create a sweet surprise for their loved ones. Or simply treat themselves with it. Besides that, you should always store this chocolate salami in fridge. It means that by using this recipe you can create a dessert that lasts for several days. Feel free to store the chocolate salami in fridge for up to one week. Even though I really doubt that it will remain uneaten for so long…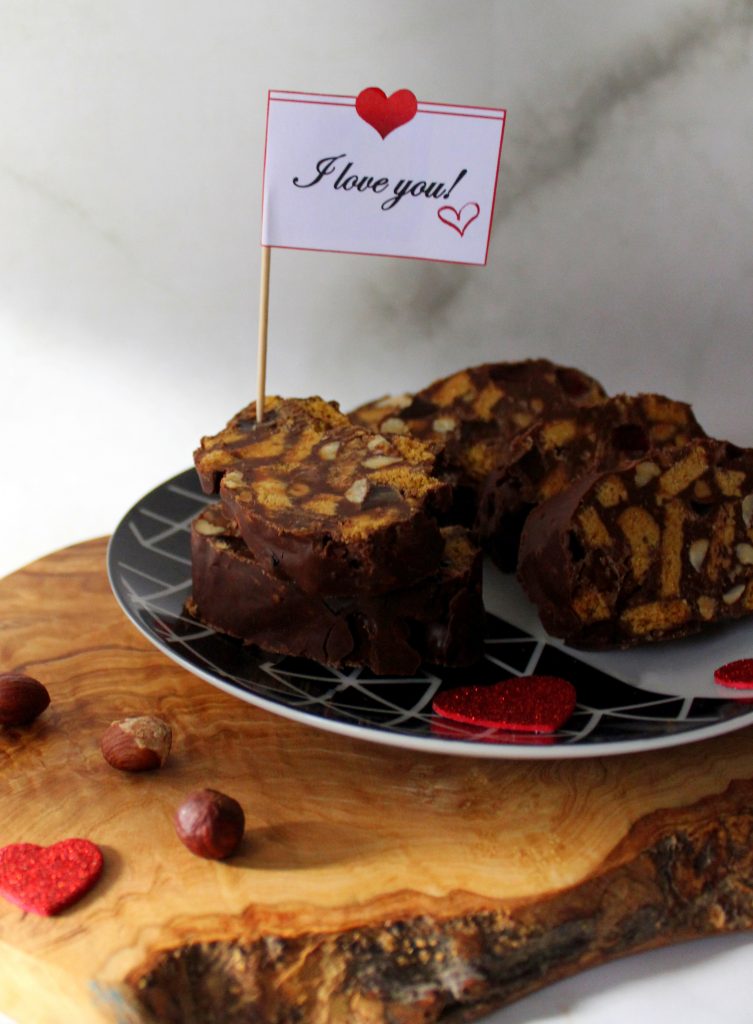 Even though I created this recipe when the Valentine's Day was approaching, you can make it whenever you want. Because spreading love with something sweet that is made with your hands doesn't require a specific date on the calendar. It's important that you spread love every single day of your life. No matter if you love someone special, life in general or your furry family members, like I love my baby Specky. That fluffy hairball gets a lot of love from his mommy and daddy all the time. So for him every day is Valentine's Day!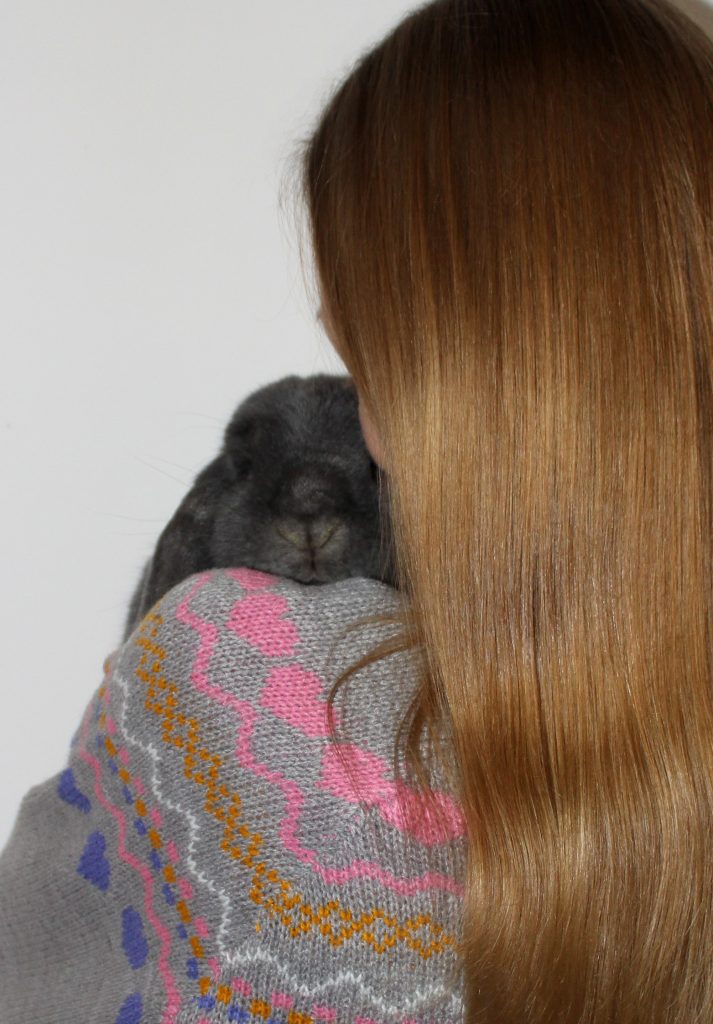 If I inspired you to create this chocolate salami, do not hesitate and get to work! Collect the necessary 5 ingredients and prepare this vegan no-bake chocolate salami that is:
quick and easy to make

extra chocolaty

slightly crispy

nourishing

with a perfectly balanced sweetness

and simply yummy!
Let me know, if you try this recipe! Leave a comment or even more – make Specky happy! Snap a picture of your masterpiece and post it on Instagram or Facebook by tagging @bunnymommycooks. And feel free to let your animal family members join in the picture!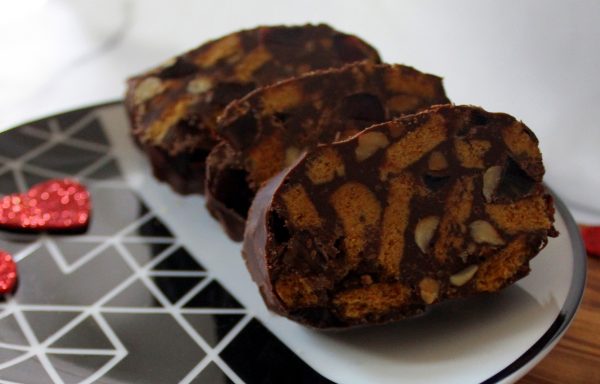 | | |
| --- | --- |
| Passive Time | at least 4 h |
50

g

of hazelnuts

(raw or roasted)

100

g

of vegan digestive biscuits

100

g

of vegan marmalade candies

100

g

of peanut butter

200

g

of dark vegan chocolate
| | |
| --- | --- |
| Passive Time | at least 4 h |

50

g

of hazelnuts

(raw or roasted)

100

g

of vegan digestive biscuits

100

g

of vegan marmalade candies

100

g

of peanut butter

200

g

of dark vegan chocolate
(!) skip this step, in case you are using already roasted hazelnuts (!) - roast the hazelnuts in a frying pan on medium heat for 5 – 7 minutes by shaking the frying pan from time to time to avoid that the nuts burn. After roasting let them cool a bit and then remove the hazelnut skin – you can do it with your hands or by putting all the nuts in a clean towel and rubbing them against it. Do not worry if some hazelnuts stay with the skin still on or only partially without;

melt the dark chocolate either in a microwave (use low power to avoid burning the chocolate) or in a water bath (bain marie);

break the digestive biscuits with your hands in smaller pieces, cut the marmalade candies in small cubes and cut the roasted hazelnuts in half. Put all three ingredients in a bowl and mix well to distribute evenly the ingredients;

add the peanut butter to the melted chocolate and mix well until both ingredients are combined perfectly;

add the liquid peanut butter and chocolate mixture to the biscuits, marmalade candies and hazelnuts and mix everything together until all solid ingredients are completely covered with the liquid mixture;

transfer the obtained mixture on a big sheet of parchment paper by positioning the mixture in the central lower part of the sheet and by creating a cylinder similar in form to salami (if you make the cylinder long, the slices of the chocolate salami will be smaller, while if you make it short, the slices will be bigger – in any case the chocolate salami size and form is up to);

fold in the sides of the parchment paper and then roll the whole chocolate salami upwards by leaving last ~10 cm/4" of the parchment paper free. Then, by holding down the chocolate salami with one hand, steady but strongly with the other hand pull upwards that piece of the parchment paper that you left free before. This action is necessary in order to compress the ingredients together and shape the mixture even more in a form of salami. To compress the ingredients evenly, move your hand, that is holding the chocolate salami, over the mixture, by constantly pulling the upper part of the parchment paper (for visual guidance check the pictures in the post). When the chocolate salami is well compressed, roll it up till the end and place it in fridge for four hours or overnight;

when the waiting time is over, cut the chocolate salami in slices. If you cut and serve it immediately after taking out of fridge, the chocolate salami will be crispier than it would be if you let it stay for a while in room temperature.
* the amount of servings is calculated according to people not according to the number of slices obtained